Sequence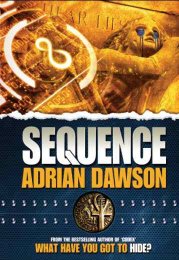 What have you got to hide?
Authors:
Adrian Dawson

Retail Price (Hardback): Retail Price (Softback): Retail Price (Ebook): ISBN: First Published:
Related Websites:
http://www.adriandawson.co.uk/

Description:
Trouble's been stalking detective Nick Lambert since he pushed his luck a little too far in the line of duty. As punishment, his boss moves him onto low-level assignments, but Nick has no idea that his first errand - tosimply check out an autistic girl who may be linked to a bizarre murder - will pitch him into the most shocking and bewildering case of his career.

Of any detective's career.

Then, when a beautiful woman in an S&M club tells LAPD detective Nick Lambert that he's now in a damn sight more trouble than he can imagine he begins to realise he's on the edge of a huge, almost incomprehensible crime.

Because this is no ordinary case. The slain man had secreted a Latin message inside his body and the girl harbours a disturbing secret. When a chance remark from the girl's nurse sends Nick after her elder sister - Sarah, a freelance archaeologist - Nick finds himself entering a labyrinth of hidden secrets that leaves the world of ordinary policing far behind.

Why does the beautiful Sarah live in a luxurious, high-tech apartment hidden in a city slum? What is the coded meaning of the 17th-century painting of St Anthony and St Paul by David Teniers the Younger? What is the perplexing object uncovered in the wastes of Siberia? And why is the seventh-richest man in the US using his government-backed corporation to explore outlandish concepts which defy the laws of science?

When Nick finally accepts the recurring offer of early retirement from the Los Angeles Police Department, he is free to confront forces which want to control a power that no living person should ever possess. At its core is a young woman who might just be the most important human being who ever lived ­- important, because she quite literally holds the key to shaping world events. Not just once, but over and over again.

From the wastes of Siberia to 12th-century France, interweaving narratives switch between Nick's increasingly unsettling investigation and a dark vision of the future, as the action speeds towards a shocking climax.
Publishers:
Last Passage