Nick Hornby Launches the Ministry of Stories Literacy Project and Hoxton Street Monster Supplies, a world's first in monster-specific retail
International bestselling author Nick Hornby launches a groundbreaking new writing project today, the Ministry of Stories, based in East London and aimed at encouraging young people to engage with reading and writing.
Inspired by the success of novelist Dave Eggers' imaginative 826 movement in the US, the Ministry of Stories is the first centre of its kind in the UK. Nick Hornby, who is co-founder and director of the project, will be on site this morning for the official opening and to attend some of the project's first workshops, with St Monica's RC Primary School.
Hornby commented
: "
The aim of the Ministry of Stories has been to create a space where young people can gain free workshops and one-to-one mentoring with writers, artists and teachers - all of whom are offering their time, skills and talent on a volunteer basis. Working closely with local schools to support the fantastic work that teachers are already doing, the Ministry of Stories is a place to inspire young people and encourage them to engage with story-telling at every level."
The Ministry of Stories (
www.ministryofstories.org
) combines developmental writing and literacy programmes with a unique retail space known as Hoxton Street Monster Supplies (believed to be a world's first in monster-specific retail) that will provide bespoke products catering for the daily needs of every imaginable monster. These fantastical items, such as Fang Floss and Jars of Human Snot, act as inspiration for the stories that young visitors go on to create after passing through the supply shop's secret door to access the Ministry of Stories itself (which is, incidentally,
very
nearly an anagram of "it's for monsters").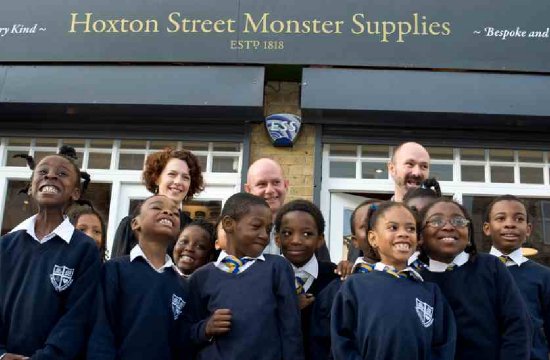 Hornby continued
:
"This combination of humour, intrigue and creativity will be at the heart of all the work that the Ministry of Stories undertakes. It has proved extremely successful at the 826 schools in the US and it has always been a source of regret that London hasn't had an equivalent. I'm really happy that we are about to put that right. We want to give young Londoners the confidence and opportunity to express themselves in writing in whatever form they choose.
The Ministry of Stories will explore how the proven educational techniques from the 826 movement can be applied to benefit the neighbourhood in which the centre is based and, in time, young people's literacy throughout the UK with the aim of eventually branching out across the country.
The Ministry of Stories has been supported by the National Lottery through Arts Council England and seed funded by the JJ Charitable Trust. The Ministry is seeking volunteers for the project as well as funding and sponsorship to develop the centre over the next three years and help create further opportunities for literacy development in London and eventually throughout the country.
Nick Hornby said
: "
826 in the USA has boomed because of local community and business support and that's what we're seeking to do in the UK. The Ministry of Stories provides a wonderful opportunity for people and organisations to get involved and work with us to help this method of learning and its proven outcomes take root in the UK and benefit children, not just in London but across the country"
Nick Hornby has been working alongside co-founders and directors Ben Payne and Lucy Macnab as well as a number of other noted ambassadors, including: Roddy Doyle, founder of the 826 inspired project Fighting Words in Dublin; Michael Morpurgo, children's author and former Children's Laureate; Hari Kunzru, shortlisted for the Whitbread and Guardian first novel prizes; award-winning playwrightKwame Kwei-Armah; Joe Dunthorne, Curtis Brown prize winner; and Sir Andrew Motion, former Poet Laureate.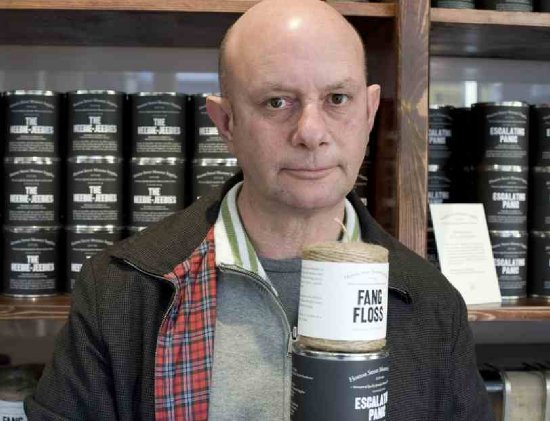 Roddy Doyle said
:
"Fighting Words in Dublin has been open seventeen months, and we have already hosted over 11,000 children at writing workshops. Everything so far has exceeded our most ambitious hopes, which were pretty high to begin with. The creativity, fun and buzz have been fantastic from the beginning, and I have no doubt that London will see a similar response once Lucy, Ben and Nick get the Ministry of Stories established. Build it and they will come."
In addition, there is a dedicated Ministry of Stories Advisory Panel, members of which include: Zadie Smith, Guardian and Whitbread first novel winner; Meera Syal, award-winning writer and actress; Linda Thompson, singer and musician; Rachel Cooke, award-winning journalist; Laura Dockrill, poet and illustrator; David Nicholls, author and screenwriter; Charlie Leadbeater, author and innovation strategist and Dominic Cooper, stage and screen actor.
Zadie Smith said:
"
As a kid I got a lot of help from after-school groups; I know how important they are to building confidence and nurturing a love of reading and writing outside of the often intimidating atmosphere of a busy urban classroom. If I could have also bought monster accessories at the same time as learning to put together a decent sentence...it would have been heaven."
The Ministry of Stories has been inspired by 826 Valencia
,
the young peoples' creative writing centre and pirate supplies store founded by Dave Eggers and Ninive Calegari.
The idea behind his centre was simple. Eggers' teacher friends told him that the one thing lacked with their English students, particularly those with literacy issues and those for whom English was a second language, was one-on-one time. Eggers' guess was that would be enough people among his writer friends who will be willing to volunteer some of their time to help out, and so he found an empty space opposite the offices on Valencia Street of his literary journal McSweeney's.
However, the city authorities told him that this space was zoned for retail: he couldn't just open it as a "school"; it had to sell something. So, inspired by the place's ship-like interior he opened it as "a pirate supply store" too: somewhere where you could buy everything that a self-respecting pirate would need - from replacement peg-legs to bird-seed for your parrot. The idea has been so successful that 826 Valencia now has sister centres in New York, Los Angeles, Ann Arbor, Chicago, Seattle, Boston, and Washington, DC, all working under the umbrella of the 826 National network.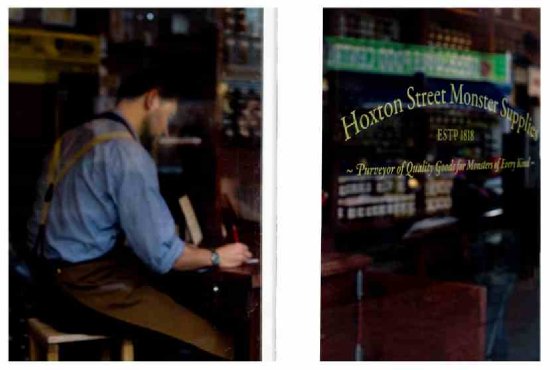 Dave Eggers said
:
"I couldn't be more excited that Ben Payne, Nick Hornby and Lucy Macnab are starting a London center based on the 826 model. For many years we've hoped that someone would bring the idea to England, and the team assembled there, and the progress they've made so far, is thrilling. The most democratic means to self-empowerment is through education and the written word, and a center like the Ministry of Stories will be life-changing for the youth of London."
The aim of the project in Hoxton is to provide an inspirational and instructive model for how writers, writing and the local community can be brought together; a place where professional skills and experience can be deployed where they are most needed; and an accessible, visible and surprising space that demonstrates the difference that writing can make in local neighbourhoods.
Lucy Macnab, director and co-founder commented
:
"There is a definite need to improve literacy and writing skills for young people in the UK. The 826 model has been proven to work across the USA by not only engaging young people but also volunteers and neighbourhoods through its creative, inclusive approach."
Ben Payne, director and co-founder added
:
"The response we have had so far has been hugely positive but the challenge ahead of us cannot be underestimated. We are setting up a new vehicle for education at a time when many traditional sources of funding are in decline. Early responses from individuals, funders and businesses however suggest there is a huge appetite for innovative projects of this kind and we welcome discussions with like minded individuals, organisations and collaborators about how we can make Ministry of Stories the long-term success it deserves to be."
Initial workshops in schools where primary children created monster characters and stories have been well received by teachers and pupils.
Rachel Harvey, Literacy Coordinator, St Monica's RC Primary School, Hoxton, said:
"
Hooray for the Ministry of Stories. This is a brilliant concept, providing the perfect opportunity for children to explore their imaginations and develop their creativity in an environment unrestrained by the conventions of the curriculum. The children have certainly been inspired and enthused and we will be ensuring that all of KS2 visit the Monster Shop and this secret organisation!"
Michelle, Year 4 pupil, St Monica's RC Primary School, Hoxton said:
"At the Ministry of Stories it gave me the courage to write and read more. When I held the book in my hand it made me feel independent and older. The Ministry of Stories has encouraged me to read and write more. I created the name of the monster so I am very proud."
Author Hari Kunzru said:
"I'm looking forward to volunteering at The Ministry of Stories new East London location. It's an area with an incredible amount of talent and energy - talent and energy which I suspect often goes to waste. From basic literacy to advanced creative projects, the 826 model has been shown to work all across the US. I hope writers, publishers and funders get behind this when it comes to London, because it's not just worthwhile, but excellent fun for everyone involved."
Antonia Byatt, Director, Literature, Arts Council, England said:
"I am really delighted that the Arts Council is funding this project. Writing is at the heart of so much artistic production, from screenplays to song lyrics to pure poetry. Its crucial that young people can be passionate about writing at the same time as being challenged to write to the highest standards. It is brilliant that so many experienced writers are offering to work alongside the next generation to build their skills. There are not enough opportunities for young people to develop their writing outside school and this project is one that will create a place that can be a real inspiration for new writers -somewhere that will be full of their own energy and imagination."