The Royle Family xmas special out in February on DVD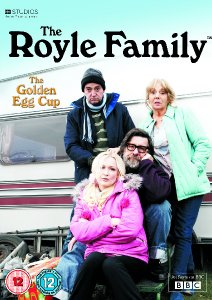 The Royle Family - The Golden Egg Cup
Release Date:
1st February 2010                       
RRP:
£17.99
Number of discs:
1                                                       
Run Time:
6
0 mins approx
Certificate:
12
Cat No:
3711532483                                          
Barcode:
5037115325839
THEY ARE BACK and there is a new buzz in the Royle family home. "The Golden Egg Cup"  watched by more than 10 million viewers over the festive period features  Barbara (Sue Johnston) and Jim (Ricky Tomlinson)  in a very excitable state (or excited as they ever can be)  for their special celebration! This one hour special also features all the regulars from the award winning series including Caroline Aherne, Craig Cash, Ralf Little and Jessica Hynes. 
Jim and Barbara have received a gift of money from the children but have no idea how to spend it. While Barbara would like to go on holiday and relive their honeymoon in Ormskirk, Jim has his heart set on an HD satellite box. As the tension mounts and tempers run high the family decide to hold a discussion and once and for all decide where to go - television superstore or a dream holiday? 
Featuring an array of extras exclusive to the DVD, including hilarious out-takes and deleted scenes, this Royle Family DVD is set to follow in the footsteps of the Series box sets which have been huge hits over time selling more than 2 million copies between them. 
So sit back and once again enjoy the comical antics of Britain's real and only Royle family.