The Royle Family return in Joe's Crackers this January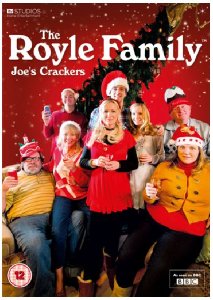 THE ROYLE FAMILY: JOE'S CRACKERS
AVAILABLE ON DVD FROM 31ST JANUARY 2011
The Royle Family are back to their hilarious best in this one off special,
Joe's Cracker's
available on DVD from ITV Studios Home Entertainment. The modern day British comedy set in Greater Manchester sees the family deal with another turbulent Christmas full of laughs and mishaps.
It's Christmas Day in the Royle household and Barbara played by
Sue Johnston
is up to her eyes in it, as Jim (
Ricky Tomlinson
) is more out of action than usual following an unfortunate incident in the precinct.
Meanwhile Dave (
Craig Cash
) and Denise (
Caroline Aherne
) are feeling the effects of the recession the most, and worry that Anthony's (
Ralf Little
) lavish gifts will eclipse their gift of a fridge magnet.
This year's Christmas special also see's the return of Joe, played by
Peter Martin
who spends the day reminiscing about a drunken evening of naked wrestling in front of the fire with Bobby Carter, while Cheryl (
Jessica Hynes
) recounts her romantic encounter in the local supermarket car park.
Written by
Caroline Ahern
and
Craig Cash
, the BAFTA award winning series has all the original cast members returning for the special, and the entire episode going back to its original format, taking place in the Royle family household.
ENDS
Release information:
Release Date: 31 January 2011
Credit: ITV STUDIOS Home Entertainment
Cert: 12
Running Time: 60 minutes
Extras: Outakes
Discs: 1
RRP: £17.99
Retail Cat. Number: 3711534443
Retail Barcode: 5037115344434
Notes to Editor
About ITV STUDIOS Home Entertainment:
ITV STUDIOS Home Entertainment is the consumer label within ITV Studios Global Entertainment. It is the company behind one of the UK's most comprehensive film and video collections with over 3000 titles and is a major player in the UK and International Home Entertainment Market. The range includes titles in contemporary and classic film (Shawshank Redemption, Fabulous Baker Boys, Brief Encounter, The Red Shoes), children's titles (Numberjacks, Thunderbirds, Big & Small, Pinky & Perky), drama (Inspector Morse, Cracker, Prime Suspect, Murphy's Law, Lewis, Ultimate Force) sport (Arsenal, and Liverpool football clubs) and comedy (Al Murray The Pub Landlord, Harry Hill's TV Burp). ITV STUDIOS Global Entertainment also owns the video rights for the Rank and ITC film collections which contain over 1500 classic British films.