Matrix Revolutions, The (UK)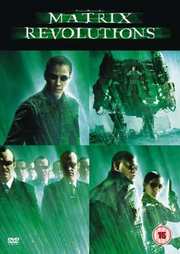 Everything that has a beginning has an end.
Certificate: 15
Running Time: 124 mins
Retail Price: £22.99
Release Date:
Content Type: Movie
Synopsis:
Neo. Trinity. Morpheus. They and other heroes stand on the brink of victory or annihilation in the epic war against the Machines in the stunning final chapter of The Matrix trilogy. For Neo, that means going where no human has dared - into the heart of Machine City and into a cataclysmic showdown with the exponentially more powerful renegade programme Smith. For writer-directors the Wachowski Brothers and producer Joel Silver, that means soaring beyond the amazing visual inventiveness of the first two films. The revolution is now: The Matrix Revolutions.
Special Features:
Revolutions Recalibrated documentary.
CG Revolution featurette.
Super Burly Brawl multi angle featurette.
Future Gamer: The Matrix Online.
Before The Revolution: Matrix timeline.
3-D Evolution: Stills gallery.
Neo Realism featurette.
Super Big Mini Models featurette.
Double Agent Smith featurette.
Mind Over Matter featurette.
Trailers.
DVD-ROM material.

Video Tracks:
Widescreen Anamorphic 2.40:1

Audio Tracks:
Dolby Digital 5.1 English
Dolby Digital 5.1 German

Subtitle Tracks:
Icelandic
Swedish
Finnish
English
German
Danish
Norwegian

Directed By:
Larry Wachowski
Andy Wachowski

Written By:
Larry Wachowski
Andy Wachowski

Starring:
Anthony Zerbe
Lambert Wilson
Hugo Weaving
Bruce Spence
Keanu Reeves
Jada Pinkett Smith
Harold Perrineau Jr.
Carrie-Anne Moss
Harry J. Lennix
Nathaniel Lees
Laurence Fishburne
Sing Ngai
Monica Bellucci
Mary Alice

Casting By:
Shauna Wolifson
Mali Finn

Music From:
Don Davis

Director of Photography:
Bill Pope

Editor:
Zach Staenberg

Costume Designer:
Kym Barrett

Production Designer:
Owen Paterson

Producer:
Joel Silver

Executive Producer:
Larry Wachowski
Andy Wachowski
Andrew Mason
Grant Hill
Bruce Berman

Distributor:
Warner Bros