Matrix, The (UK)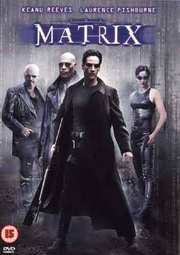 The fight for the future begins
Certificate: 15
Running Time: 131 mins
Retail Price: £19.99
Release Date:
Content Type: Movie
Synopsis:
Set in a visually stunning futuristic world, `The Matrix` is an explosive action thriller that explores the notion that everything we believe to be real is actually a computerised virtual world.

When Neo (Keanu Reeves) learns the disturbing truth, every move, every second, every thought becomes a fight to stay alive and escape The Matrix. Neo, a computer hacker learns this from Morpheus (Laurence Fishburne), who also tells him that the Matrix uses humans as fuel as part of their quest for total domination.

But the humans are fighting back. Neo, Morpheus and Trinity (Carrie-Ann Moss) must battle for their lives against this viciously powerful cadre to find the answers they seek, to understand their own roles in the epic drama unfolding around them, to learn their true power, and to recognize their destinies.
Special Features:
Interactive Menus
Scene Access
HBO First Look Special: Making The Matrix
Follow The White rabbit and Take The Red Pills for more mysterious, mind-bending extras
Filmographies
Advanced Features For Your DVD-ROM PC: Are You The One Challenge
Screenplay Storyboard, and genre Essays
Do You Know Kung Fu?
Original Web Site

Video Tracks:
Widescreen Anamorphic 2.35:1

Audio Tracks:
Dolby Digital 5.1 English

Subtitle Tracks:
Romanian
English
CC: English
Arabic
Bulgarian

Directed By:
Larry Wachowski
Andy Wachowski

Written By:
Larry Wachowski
Andy Wachowski

Starring:
Joe Pantoliano
Hugo Weaving
Laurence Fishburne
Gloria Foster
Carrie-Anne Moss
Keanu Reeves

Casting By:
Shauna Wolifson
Mali Finn

Soundtrack By:
Don Davis

Editor:
Zach Staenberg

Costume Designer:
Kym Barrett

Production Designer:
Owen Paterson

Producer:
Carol Hughes
Dan Cracchiolo
Joel Silver
Richard Mirisch

Executive Producer:
Andrew Mason
Larry Wachowski
Erwin Stoff
Barrie M. Osborne
Andy Wachowski
Bruce Berman

Distributor:
Warner Bros