Matrix, The / The Matrix Revisited (Deluxe Box Set) (UK)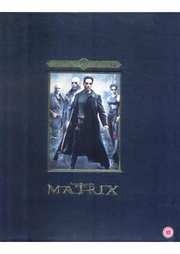 The fight for the future begins
Certificate: 15
Running Time: 310 mins
Retail Price: £49.99
Release Date:
Content Type: Movie
Synopsis:
Keanu Reeves and Laurence Fishburne lead the fight to free humankind in The Matrix, the cyberthriller that you will watch again and again. The Matrix Revisited is a feature-length look at the creation and development of the special effects, the training routines, the origin of The Matrix, and interviews shot during production of the landmark sci-fi movie.
This special DVD edition of The Wachowski Brothers` The Matrix also contains 8 lobby card prints, a Senitype image from the movie with 35mm film frame, a one sheet movie poster (27"x40") , and 6 black and white photograph stills.
Special Features:
The Matrix:Follow the White Rabbit (22:22). HBO First Look Special: Making The Matrix (25:48). What Is Bullet Time? (6:12). What Is The Concept? (10:50). Essays and Related Articles. Theatrical Web site. "Do You Know Kung Fu?" "Are You The One?" DVD-ROM exclusive special features: Web Enablement. Splash Page Red Pill / Blue Pill Choice. From Script to Screen.
The Matrix Revisited: Juke Box. Chase In The Alley - scene study with behind-the-scenes footage. The Woman In Red - behind-the-scenes footage on this character. Agent Down - behind-the-scenes footage of Hugo Weaving`s injury. Theatrical Trailer. DVD is web-enabled.

Video Tracks:
Widescreen Anamorphic 2.35:1

Audio Tracks:
Dolby Digital 5.1 English

Directed By:
Andy Wachowski
Larry Wachowski

Written By:
Andy Wachowski
Larry Wachowski

Starring:
Gloria Foster
Carrie-Anne Moss
Keanu Reeves
Joe Pantoliano
Hugo Weaving
Laurence Fishburne

Casting By:
Mali Finn
Shauna Wolifson

Soundtrack By:
Don Davis

Editor:
Zach Staenberg

Costume Designer:
Kym Barrett

Production Designer:
Owen Paterson

Producer:
Joel Silver
Richard Mirisch
Carol Hughes
Dan Cracchiolo

Executive Producer:
Andy Wachowski
Bruce Berman
Andrew Mason
Larry Wachowski
Erwin Stoff
Barrie M. Osborne