Romeo X Juliet: Volume 4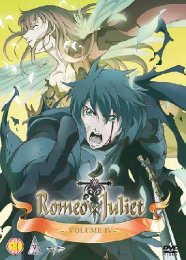 Triumph or tragedy; only fate knows what awaits Romeo and Juliet...
Certificate: 12
Running Time: 142 mins
Retail Price: £15.99
Release Date: 2010
Content Type: TV Series
Synopsis:
A dystopian fantasy loosely based on William Shakespeare's classic romance between two star-crossed lovers, baby Juliet is the only member of the noble Capulet family to survive the rival Montague house's vicious overthrow.

Romeo and Juliet share a romance not meant for this mortal coil. Their love has the power to alter the course of time - and change the world they must if there is to be any hope for a future.

Together they'll discover the brutal truths of both past and future while maintaining their devotion to a love once found only in fairy tales. All the while, villainous Conrad Montague opposes their union and crushes Neo Verona with a boot to its throat.

As their cherished city tumbles down around them, Romeo and Juliet have no choice but to face an otherworldly destiny that threatens to destroy them both...

Contains episodes 19 - 24.
Special Features:


Video Tracks:
1.78:1 anamorphic widescreen

Audio Tracks:
Dolby Digital 5.1 Surround English
Dolby Digital 2.0 Stereo Japanese

Subtitle Tracks:
English

Directed By:
Fumitoshi Oisaki

Written By:
Kurasumi Sunayama
Miharu Hirami
Natsuko Takahashi
Reiko Yoshida
William Shakespeare

Starring:
Fumie Mizusawa
Takahiro Mizushima
Aya Hisakawa
Ayako Kawasumi
Hirofumi Nojima
Katsuhisa Houki
Kazuhiko Inoue
Kouji Ishii
Kousuke Toriumi
Miyu Matsuki
Brina Palencia
Chris Burnett
Carrie Savage
Christopher Bevins
Colleen Clinkenbeard
Dana Schultes
Eric Vale
J. Michael Tatum
Jerry Russell
Larissa Wolcott

Music From:
Hitoshi Sakimoto

Director of Photography:
Naoki Kitamura

Editor:
Seiji Hirose

Production Designer:
Jun Takagi

Producer:
Touyou Ikeda

Distributor:
MVM