Acclaimed Anime Satire Welcome to the NHK Coming to UK DVD from MVM in January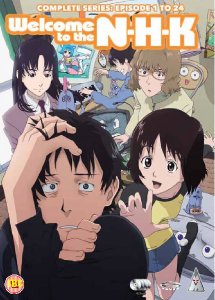 HAVE YOUR OBSESSIONS TAKEN OVER YOUR REALITY?
Based on the popular Japanese novel by
Tatsuhiko Takimoto
(Negative Happy Chainsaw Edge) and its subsequent manga adaptation written by Takimoto and illustrated by
Kendi Oiwa
(Goth; Tsukumo Happy Soul),
Welcome To The N.H.K.
is a 24- episode anime series produced by
Gonzo
and directed by
Yusuke Yamamoto
(Aquarion Evol; Sakura Taisen: Le Nouveau Paris). A mature and compelling series that combines comedy, romance, social commentary and drama with superbly detailed animation, the series has been hailed by Animation World Magazine as "a true anime gem [and] a delicately human tale."
Essential viewing for fans of intelligent, adult-themed anime bearing more than a hint of realism to storyline and characters,
Welcome To The N.H.K.
comes to
DVD
in
January 2012
featuring all
24 episodes
over
four discs
.
Sato Tatsuhiro is a 20-something NEET (Not in Employment, Education or Training), a miserable failure, and a reclusive loner suffering from acute social withdrawal. A paranoid mess of deep-rooted anxieties and a true believer of conspiracy theories, he is also under the delusion that a secret organization known as the Nihon Hikikomori Kyokai (Japan Social Withdrawal Association) is trying to produce a world filled with brainwashed, jobless recluses just like him.
Unexpectedly, into Sato's world comes Misaki, a mysterious young girl who could be his last chance at beating his demons, overcoming his phobias and venturing out into the world as a relatively balanced person. Unfortunately, Sato is committed to hiding in his garbage-strewn apartment and pretending to work on the creation of a "hentai" video game that he thinks will make him a fortune - if he ever completes it. Eventually, Misaki's charm, persistence and desire to fix the problems of a total stranger begin to take effect and, slowly but surely, she begins to open Sato's eyes to the possibility of a new future.
Welcome To The N.H.K.
(cert. 15) will be released on
DVD
(£29.99) by
MVM
on
9th January 2012
.