Romeo X Juliet: Volume 1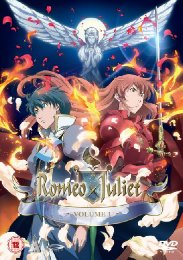 Triumph or tragedy; only fate knows what awaits Romeo and Juliet...
Certificate: 12
Running Time: 142 mins
Retail Price: £15.99
Release Date: 2010
Content Type: TV Series
Synopsis:
Until fourteen years ago the noble house of Capulet had ruled the futuristic aerial city of Neo Verona peacefully and benevolently. But an ancient grudge held by the rival house of Montague resulted in a mutiny and a bloody coup in which the city's rulers were deposed and all but one of the Capulets were murdered. The sole survivor was a young girl, Juliet Capulet, since raised by loyalists in secret disguised as a boy named Odin, and to whom her true identity would only be revealed on her 16th birthday. However, Juliet also leads another secret life as a vigilante, Robin Hood-like figure known as the Red Whirlwind, who fights injustices inflicted upon the common people by the Montague clan.

On the eve of her 16th birthday, Juliet unexpectedly finds herself attending the prestigious Rose Ball, hosted by the Montagues, and there she meets the heir to the family throne, Romeo, a young man unimpressed by his father's tyrannical rule. Although already forcibly engaged to a woman of his father's choosing, Romeo becomes smitten by Juliet's charms and sets about wooing this strange and entrancing girl. However, when Juliet learns the truth of her past, love, devotion and loyalty all become conflicted as fate deals a potentially tragic hand to the star-crossed lovers.

Action, humour and romance combine in this highly original animated take on one of the Bard's most enduring and popular plays. Anime fans will appreciate the sumptuous production values while Shakespeare fans will delight in the numerous references to his works and the notable inclusion of one particular character - a brilliantly observed playwright named Willie!
Special Features:
The making of Romeo x Juliet
Textless songs
Art Gallery
Trailers

Video Tracks:
1.78:1 anamorphic widescreen

Audio Tracks:
Dolby Digital 5.1 Surround English
Dolby Digital 2.0 Stereo Japanese

Subtitle Tracks:
English

Directed By:
Fumitoshi Oisaki

Written By:
Kurasumi Sunayama
Miharu Hirami
Natsuko Takahashi
Reiko Yoshida
William Shakespeare

Starring:
Fumie Mizusawa
Takahiro Mizushima
Aya Hisakawa
Ayako Kawasumi
Hirofumi Nojima
Katsuhisa Houki
Kazuhiko Inoue
Kouji Ishii
Kousuke Toriumi
Miyu Matsuki
Brina Palencia
Chris Burnett
Carrie Savage
Christopher Bevins
Colleen Clinkenbeard
Dana Schultes
Eric Vale
J. Michael Tatum
Jerry Russell
Larissa Wolcott

Music From:
Hitoshi Sakimoto

Director of Photography:
Naoki Kitamura

Editor:
Seiji Hirose

Production Designer:
Jun Takagi

Producer:
Touyou Ikeda

Distributor:
MVM