Anime Review Roundup
Manga's Three Twits of Easter
Last week saw Twitter overload from Manga Entertainment, who dealt us a trinity of announcements to savour. First was more confirmation than announcement, but
Full Metal Alchemist: Brotherhood
will indeed be simultaneously released on DVD and Blu-ray, making it the first mainstream anime series to go HD in the UK. The date is 23rd August and the R.R.P. is £34.99. Incidentally, Beez also confirmed the release date for the Blu-ray Sword of the Stranger movie, 26th April at £29.99
Next up from Manga is the announcement of the
Naruto dream/nightmare (delete as appropriate) collection
. All 51 discs, all nine series will be released in one big mega box set! Believe it! Buy it if you dare.
Finally Manga announced that it has licensed two movies for release in the near future, the Samurai tale
Musashi: The Dream of the Last Samurai, and Eureka SeveN: Pocket Full of Rainbows
, the retelling of the Eureka SeveN series previously released here by Beez. Both films should see the DVD and Blu-ray treatment.
News links from UK Anime.Net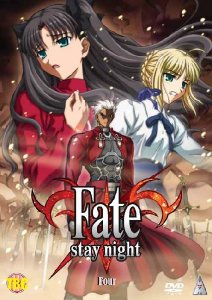 Last week I gave to you three anime reviews, and not a word of thanks. I don't know why I bother sometimes. You can continue your indifference and ingratitude by clicking on the following links. First up was
Fate/Stay Night: Volume 4
. Mythology, combat and harem romance comedy is an odd mix, but Fate/Stay Night has been happily ticking over for the first half of its run. I have to admit that I have been waiting for it to step up a gear, and it certainly does so in this fourth instalment, by ditching the harem clichés, and going all out for the action and seriousness for its runtime. See if that makes the show rise above the average by clicking on my review.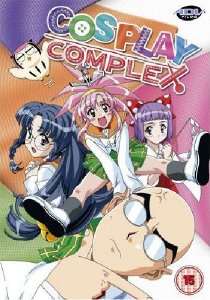 It was time to step down memory lane next, as I picked up another ADV bargain. The company may have gone kaput, but there are plenty of DVDs to be had on the cheap, as old stock remains to be cleared. I've made a certain e-tailer's shop floor a 'cleaner' place by taking a copy of
Cosplay Complex
off their hands. It's a silly and naughty anime comedy about the world of cosplay, dressing up as your favourite fictional characters, Trekkies writ large. This group of costume loving girls have big ambitions to win the World Series, but somehow it always boils down to sex. See why I had to scrub myself clean with wire wool by reading the review.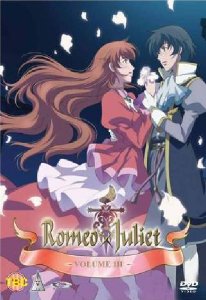 Back to normality and something infinitely more wholesome for my final anime review. It was the turn of
Romeo X Juliet: Volume 3
. The first two volumes had me enthusiastically endorsing this series as the best of the year so far, and I had high expectations indeed from this third volume. It's the classic tragic romance given an anime spin by masters of eye-candy, Gonzo. But as well as looking pretty, Romeo X Juliet does justice to its characters and has a peach of a story. See if this third volume keeps up the already high standard by clicking away.
ADV released Cosplay Complex many years ago now, and you can still get it for a pittance in many a bargain bin. The money you'll spend on mental bleach afterwards will probably bankrupt you though. MVM release Romeo X Juliet: Volume 3, and Fate/Stay Night: Volume 4 today. It's in shops now. Hurry up, scarf down that Easter Egg and get going!