Aquarion: Volume 2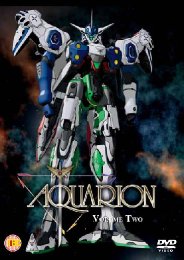 The destiny of the Solar Wing!
Certificate: 15
Running Time: 168 mins
Retail Price: £15.99
Release Date: 2009
Content Type: TV Series
Synopsis:
When the Shadow Angels invade earth after 12,000 years of slumber, humanity is held captive by fear and sheer alien dominance. Eleven years after the Great Catastrophe decimated the world, most of those left alive are scavengers, dirty and starving in the streets. There is hope, however, in the shape of Mechanical Angel Aquarion.

Powered by three souls intertwined, a rare breed of pilot takes the controls. Known as Elements, one among them must rise if mankind is to survive. Prophecy is being fulfilled as the end of the world approaches and through a swirling cloud of love, betrayal, loss and destiny, the last hope for the new future arrives and takes flight.

Full of action-packed mecha battles and anime heroics, AQUARION is a must-see for fans of titles such as 'Escaflowne', 'Neon Genesis Evangelion', 'Vandread' and 'Voltron'.
Special Features:


Video Tracks:
1.78:1 anamorphic widescreen

Audio Tracks:
Dolby Digital 5.1 Surround English
Dolby Digital 2.0 Stereo Japanese

Subtitle Tracks:
English

Directed By:
Shoji Kawamori

Written By:
Shoji Kawamori
Hiroshi Ohnogi

Starring:
Takuma Terashima
Tomokazu Sugita
Yumi Kakazu
Daisuke Sakaguchi
Hiromi Satou
Mako Hyoudou
Masaya Onosaka
Romi Paku
Sanae Kobayashi
Toshiyuki Morikawa
Tsugumi Higasayama
Unshou Ishizuka
Brina Palencia
Christopher Bevins
Eric Vale
Brandon Potter
Caitlin Glass
Carrie Savage
Colleen Clinkenbeard
J. Michael Tatum
Laura Bailey
Monica Rial
Todd Haberkorn
Travis Willingham

Music From:
Hisaaki Hogari
Yoko Kanno

Director of Photography:
Hiroshi Maeda

Editor:
Yasuaki Takeuchi

Producer:
Atsushi Iwazaki
Hiroshi Hattori
Jun Satoyoshi
Takao Minegishi
Tsutomu Kasai

Distributor:
MVM