Anime Review Roundup
Anime on Demand's Next Simulcast Is…
C. That's a pretty unassuming title for an anime, especially given some of the extravagant and lengthy titles that some shows get, but C is a rarity for the UK streaming market. It's a noitaminA show, that late night strand that offers something a little more thoughtful, encompassing, and varied for audiences who want more than just the usual tropes. With Funimation nabbing the streaming licences, we usually don't get them in the UK until they are released on DVD as Eden of the East was. Perhaps a sign of more promising things to come is that Anime on Demand has managed to get the streaming rights for a noitaminA show, making the prospect of further such titles all the more likely.
Here's their press release…
Quote:
Anime on Demand is very excited to announce that for the first time ever, Fuji Television's popular Noitamina block will kick off for legal streaming in the UK via our website. We are pleased as a starting point to announce the simulcast of "[C] - Control - The Money and Soul of Possibility" starting on April 21st, one week after its Japanese broadcast debut.

"[C]" is an ongoing original series produced by Tatsunoko Production and directed by Kenji Nakamura ("Welcome to Irabu's office :)", "Mononoke"). Noboru Takagi ("Durarara!!", "Baccano!") is scripting it and mebae ("Cencoroll" and "Black Rock Shooter") will be doing the character designs.

ABOUT [C]

"[C]" is set in a world where the Japanese government was rescued from the brink of financial collapse by the Sovereign Wealth Fund. For its citizens, however, life has not improved, and unemployment, crime, suicide, and despair are rampant.

Kimimaro, raised by his maternal grandmother after the disappearance of his father and the death of his mother, is a scholarship student whose only dream is to avoid all this and live a stable life. One day, however, he meets a man who offers him a large sum of money if he'll agree to pay it back. From then on his fate is radically altered as he's drawn into a mysterious realm known as "The Financial District."

AVAILABILITY

"C" will be available throughout its broadcast a week after its Japanese debut, exclusively on Anime on Demand for the UK at 17:45 every Thursday, starting on the 21st.
If you want to try C out, or indeed Tiger and Bunny, head to the link in the right hand column. There will be further titles on Anime on Demand in the near future.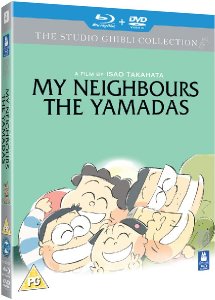 I may be a little late to the Blu-ray anime party, but the first title that I get to review may just spoil me for all other high definition anime.
My Neighbours The Yamadas
is a Ghibli title after all. They are the Disney of the anime world, and if anyone is going to offer top quality image and sound, it's Ghibli. Sure enough, My Neighbours The Yamadas looks and sounds absolutely divine. But it's what is inside that counts, and the simple animation, depicting the everyday life of an eccentric Japanese family and the various odd situations they encounter, the strange flights of fancy they indulge in, may not make this the first Ghibli title that springs to mind when it comes to a Blu-ray release. Click on the review to see how it fares.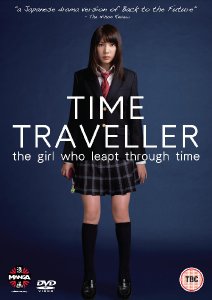 A little live action entertainment to round things off, but one with a strong anime link. After all, Mamoru Hosoda's The Girl Who Leapt Through Time may just be the best anime film of the last decade. Yasutaka Tsutsui wrote the novel that it's based on, and it stars Riisa Naka as its time travelling protagonist. That novel has spawned many movies and TV shows as well as the internationally renowned anime, and last year the latest live action feature was released, also starring Riisa Naka in the title role (albeit a different character and a wholly different take on the story). Click on the review for
Time Traveller: The Girl Who Leapt Through Time
to see what the live action movie has to offer.
Optimum Home Entertainment will release My Neighbours The Yamadas in a Blu-ray and DVD combo on May 9th 2011, Manga Entertainment will release Time Traveller: The Girl Who Leapt Through Time a week earlier on May 2nd.