Anime Review Roundup
Gurren Lagann License Rescued By Anime Limited
Anime Limited hit 2000 likes on their Facebook page today, and that was reason enough to get the announcement machine out of mothballs. 2000 likes, and all they've released so far is 009 Re:Cyborg in cinemas, that's is pretty amazing. Who knows what will happen when they finally release a disc!
Anyway, today's announcement was for a fan favourite that previously saw a limited release from Beez Entertainment (as so many were at the end of Beez's life). It's been recently resurrected for DVD and Blu-ray release in the US by Aniplex, the latter with a jaw-dropping $400 price tag, but hopefully Anime Limited will be holding to the pricing of their forthcoming Cowboy Bebop release, when they release Gurren Lagann this autumn.
From
Anime Limited's press release
Quote:
Glasgow, UK 24 June, 2013 – Anime Limited, the Glasgow-based anime licensing company and parent company of All the Anime, is excited to announce the release of the classic anime TV series Gurren Lagann on DVD and Blu-ray for the UK.

In his skyless cavern of a village Simon toils daily, drilling holes to expand his stifling little world, until one day he makes an extraordinary discovery: a small glowing drill-bit and the man-sized mecha it activates. Before he can give it a second thought Simon's dragged into a plot to break through to the surface by the local gang leader Kamina, only to have the ceiling come crashing down on top of them under the weight of a giant monster! It somehow falls onto the boisterous Kamina and cowardly Simon to defend their village, but once they defeat the monster, what awaits the duo on the surface world?

Critically acclaimed and much loved by anime fans, Gurren Lagann is a triumph of storytelling. It is frequently listed as one of the seminal series of the last decade with top ratings by IGN (9.7 out of 10) describing it as "a great tale of the indomitable spirit of determined people", Anime New Network (an A rating), UK Anime Network (8 out of 10) and THEM reviewer Tim Jones describing it as "chuck full of action, comedy, drama, adventure and sci-fi elements, managing to even entertain a person who couldn't care less about mecha in the process."

Anime Limited's president Andrew Partridge says: 'Gurren Lagann marks an exciting addition to our growing catalogue. We're very excited to bring this to anime fans in the UK'.

Gurren Lagann will be available in the autumn in one complete DVD collection. It will have two Blu-ray sets with release to be confirmed shortly when pre-orders go live.
Monogatari and Rahxephon Snippets
The direct from Japan streaming service, Daisuki, a venture to give content creators more control, announced its first simulcast last week. They announced that they have exclusive rights to stream the Monogatari sequel to the world, or at least six territories of which the UK is one. The second Monogatari series follows Bakemonogatari and Nisemonogatari in chronology, so a simulcast may not be as much use to us here, unless you're already other-meansed Bakemonogatari and watched Nisemonogatari on Crunchyroll. Otherwise we'll have to wait for MVM to release the shows on DVD first. Daisuki will also be streaming the rest of the Monogatari franchise as well, so there is that option.
Someone on an anime forum somewhere spotted Rahxephon scheduled for release on
October 14th 2013 at Amazon
. This series and its spin-off movie were originally released by ADV Films, and it's been compared to Evangelion. This complete collection looks to be 101 Films second anime release, following Elfen Lied earlier this year. Hopefully the price will be more realistic this time around. That same someone also spotted Lady Death scheduled from 101 Films, also an old ADV title, but the less said about that, the better.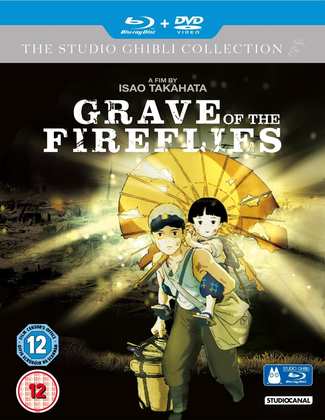 Two anime reviews this last week, beginning with some classic Ghibli on Blu-ray. I had a box of tissues and a therapist on stand-by for
Grave of the Fireflies
, as effective an anti-war message as any, and subtler and more measured than most. The plight of two children who fall through the cracks of society towards the end of the Second World War is never less than moving, and given the full HD treatment makes for a powerful and memorable viewing experience. Click on the review to see why you simply must watch this film.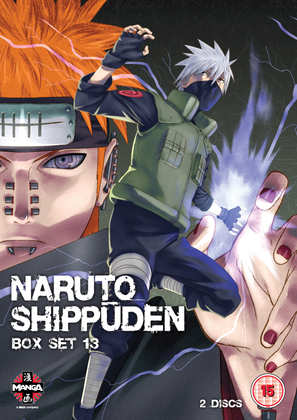 War also comes to the Hidden Leaf Village in my second review, although thankfully for my emotional well-being, there's a lot less in the way of plausibility when it's a war between ninja. But
Naruto Shippuden Collection 13
will also manage to tug on the heartstrings as well, even while it's filling the screen with wall to wall ninja action, with our bright orange hero facing the toughest challenge of his career as a shinobi, with the lives of his dearest friends in the balance, as Pain comes to Konoha.
Grave of the Fireflies comes to the UK in Blu-ray DVD combo form on the 1st of July, courtesy of Studiocanal. Manga Entertainment release Naruto Shippuden Collection 13 today on DVD.