Anime Review Roundup
You Can (Not) Advance For Another Three Weeks
I forgot to mention this last week, but Manga Entertainment have delayed the release of the second Evangelion movie Evangelion 2.22 You Can (Not) Advance until June 20th 2011. A three-week delay is a little bothersome, but boils down to a difficulty with getting all the relevant materials in place.
With the March earthquake in Japan knocking out the world's major producer of HD CAM media, you may find that more than a few titles meet with delays over the next few months. If you want someone to blame, someone to complain to, start with your local places of worship.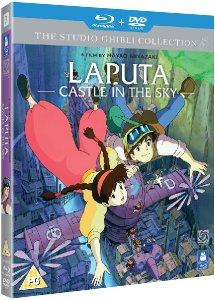 Surely a little Miyazaki will make you all feel better. I may have only got to one anime review last week, but when it's the long-awaited Blu-ray release of
Laputa: Castle in the Sky
, then that makes me forget all about the wrong kind of leaves in front of the anime train. Laputa was the first title proper to be released by Studio Ghibli, even though earlier titles like Little Norse Prince, Nausicaa, and Castle of Cagliostro are also released on the Ghibli label in the UK. But back in 1986, when Hayao Miyazaki, Isao Takahata, and a group of like-minded animators came together to follow a singular vision, Laputa was the first one proper. It's a Miyazaki movie, and already his deft storytelling touch and sense of visual wonder is in evidence, telling the tale of two young orphans who battle adversity, sky pirates and the military, to find a mythical lost civilisation high above the clouds. Let's face it; I'd enjoy a Miyazaki movie even if it was on VHS, but now that it's on Blu-ray…
Optimum Home Entertainment will release Laputa: Castle in the Sky on the 9th of May 2011.