Laputa: Castle In The Sky - Double Play: The Studio Ghibli Collection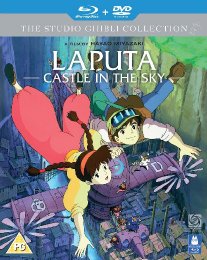 Studio Ghibli in high definition!
Certificate: PG
Running Time: 125 mins
Retail Price: £24.99
Release Date: 2011
Content Type: Movie
Synopsis:
The beauty of Studio Ghibli can now be enjoyed on both the original DVD and Blu-ray with this all new Blu-ray Double Play edition!

Available for the first time in high definition on Blu-ray Double Play courtesy of Studio Ghibli and master animator Hayao Miyazaki Laputa: Castle In the Sky is an imaginative tale full of mystery and adventure. The high-flying journey begins when Pazu, an engineer's apprentice, finds a young girl, Sheeta, floating down from the sky, wearing a glowing pendant.

Together, they discover both are searching for the legendary floating castle, Laputa, and vow to unravel the mystery of the luminous crystal around her neck. Their quest won't be easy, however. There are sky pirates, secret agents and monumental obstacles stopping them from discovering the truth - and each other. However, Laputa is more than it appears, and some seek to use it for evil.

Laputa: Castle In the Sky continues Hayao Miyazaki's obsession with air travel, featuring some truly remarkable designs, especially for the floating fortress Laputa itself. It is said that he based a lot of the environments on rural Wales, following his time spent there during the miner's strikes.
Special Features:
'Double Play Edition' includes the movie on 2 formats: Blu-ray & DVD!
Storyboards
Promotional Video
Behind the Microphone
The World of Laputa
Creating Castle in the Sky
Character Sketches
Producer's Perspective: Meeting Miyazaki
Textless Opening and Ending Credits
TV Spots
Original Japanese Theatrical Trailers
Studio Ghibli Collection Trailers

Video Tracks:
1080p 1.85:1 widescreen

Audio Tracks:
LPCM 48k 5.1 Surround English
LPCM 48k 2.0 Stereo Japanese

Subtitle Tracks:
English

Directed By:
Hayao Miyazaki

Written By:
Hayao Miyazaki

Starring:
Kotoe Hatsui
Keiko Yokozawa
Anna Paquin
James Van Der Beek
Mayumi Tanaka
Fujio Tokita
Nou Terada
Mark Hamill
Andy Dick
Cloris Leachman
Mandy Patinkin
Michael McShane
Richard Dysart

Music From:
Joe Hisaishi

Director of Photography:
Hirokata Takahashi

Editor:
Takeshi Seyama
Yoshihiro Kasahara

Producer:
Isao Takahata

Executive Producer:
Tatsumi Yamashita
Yasuyoshi Tokuma
Hideo Ogata

Distributor:
Optimum Home Entertaiment