My Neighbours The Yamadas - Double Play: The Studio Ghibli Collection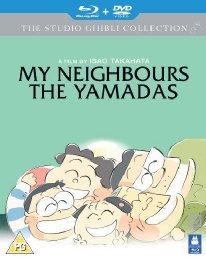 Studio Ghibli in high definition!
Certificate: PG
Running Time: 104 mins
Retail Price: £24.99
Release Date: 2011
Content Type: Movie
Synopsis:
Available for the first time in high definition on Blu-ray Double Play courtesy of Studio Ghibli, My Neighbours The Yamadas invites you to join the adventures of the quirky Yamada family brilliantly presented in an unique, visually striking comic-strip style.

Takashi Yamada and his wacky wife Matsuko, who has no talent for housework, navigate their way through the ups and downs of work, marriage and family life. Amongst their brood is the sharp-tongued grandmother who lives with them; a teenage son who wishes he had cooler parents; and a pesky daughter whose loud voice is unusual for someone so small. Even the family dog has issues! This film shows us a variety of episodes of their lives with tales that range from the humorous to the heart-breaking, we see this family cope with life's little conflicts, problems and joys in their own way.

The beauty of Studio Ghibli can now be enjoyed on both the original DVD and all new Blu-ray with this Blu-ray Double Play edition!
Special Features:
'Double Play Edition' includes the movie on 2 formats: Blu-ray & DVD!
Storyboards
NTV Special Program: Super TV "15 Months Exclusive Coverage: Secrets of My Neighbours the Yamadas"
Behind the Microphone
TV Spots
Original Japanese Theatrical Trailers
Studio Ghibli Collection Trailers

Video Tracks:
1080p 1.78:1 widescreen

Audio Tracks:
DTS-HD MA 5.1 English
DTS-HD MA 5.1 Japanese

Subtitle Tracks:
English

Directed By:
Isao Takahata

Written By:
Isao Takahata
Hisaichi Ishii

Starring:
Hayato Isobata
Masako Araki
Naomi Uno
Touru Masuoka
Yukiji Asaoka
Akiko Yano
Kosanji Yanagiya
Daryl Sabara
Jim Belushi
Liliana Mumy
Molly Shannon
Tress MacNeille
David Ogden Stiers

Music From:
Akiko Yano

Director of Photography:
Atsushi Okui

Editor:
Takeshi Seyama

Producer:
Michael Johnson
Seiichiro Ujiie
Takashi Shouji
Toshio Suzuki

Executive Producer:
Yasuyoshi Tokuma

Distributor:
Optimum Home Entertainment