Plus One - The complete first series released by 4DVD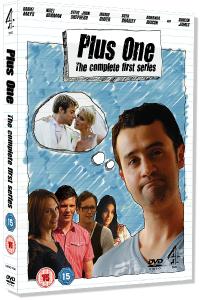 PLUS ONE



The complete first series released by 4DVD on Monday

9th February

2009



Following the success of the pilot as part of Channel 4's Comedy Showcase last year comes a brand new Channel 4 comedy series Plus One, released exclusively by 4DVD on Monday 9th February 2009.

Starring Daniel Mays (Vera Drake, Atonement) in the lead role,
Plus One follows the escapades of hapless Rob Black, an unlucky-in-love 30-something whose girlfriend Linsey leaves him to marry Duncan from Blue. The happy couple, played by Miranda Raison (Spooks) and Duncan James, extend Rob an invitation to their wedding with a "plus one."
Throughout the series, Rob is out to settle a score, trying to find a beautiful girl to accompany him to the nuptials and outshine the happy couple. But the path of "true love" never did run smooth, and he stumbles from one disaster to the next in his quest for that dream date.
As the wedding looms ever nearer and Duncan's perfect life shows no signs of changing, Rob receives little encouragement from his family. His brother Rich (Nigel Harman - Eastenders), a P.E. teacher who is a perpetual dater of his 18 year-old ex pupils, and sister Rebecca (Ingrid Oliver - Peep Show) whose love life is also a total disaster, both seriously doubt his pulling power. As do his friends, including best mate Paul (Steve John Shepherd - This Life), who is gradually developing something of a crush on Rebecca, and colleague Laura (Ruth Bradley - The Innocence Project), who endures Rob's accounts of his hare-brained schemes.
Rob's desperation to attract a Plus One who will boost his self-esteem and restore his pride knows no bounds. As D-day gets ever closer, Rob resorts to more and more drastic measures to achieve his goal resorting to bribing a child to fake a disability in order to win a date with Lisa Snowdon at a charity auction, persuading Jamelia to pretend she's his best mate and being mistakenly branded as a violent, pervert while trying to impress his first love. Will Rob find the perfect girl, or be resigned to even more humiliation in front of the perfect couple?
Plus One is written by new writing partnership Tim Allsop and Stewart Williams and includes a number of celebrity cameos from famous faces including Lisa Snowdon, Steve Jones and Jamelia.
From award-winning production company Kudos Film and Television. The Executive Producer is Derek Wax (Sex Traffic, Tsunami, the Aftermath) and the Series Producer is Matthew Bird (The Lakes, Linda Green). The Director is Sarah O'Gorman (Holby Blue, Bonekickers). The series has been commissioned by C4 Commissioning Editors for Comedy, Darren Smith and Shane Allen.
Featuring a host of extras including
behind the scenes feature, bloopers, deleted scenes
and
writer's
commentary,
the series is available to own on DVD on Monday 9th February 2009.
Plus One DVD Details
Release date:
9th February 2009
Format:
1 disc
Cert:
15
Cat No:
C4DVD10226
RRP:
£19.99
Kudos Film and Television are the creators of Spooks, Life on Mars and Hustle