Burn After Reading Released on DVD & Blu Ray
Overcome the January blues with another master class in wickedly dark comedy from the Oscar® winning*, Coen Brothers (No Country for Old Men) as Burn After Reading is available to own and rent on DVD and Blu-ray from February 9th 2009.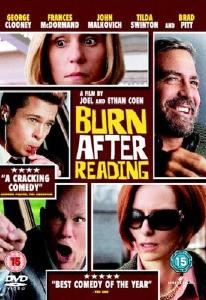 Burn After Reading takes us deep into the perils of idiocy by following the paths of five randomly interconnected individuals. This smart film about stupid people has the Coen Brothers trademark of quality as we witness a series of complex stories, cleverly inter-linked and brought to life by an all star cast (including George Clooney, Brad Pitt, Frances McDormand, Tilda Swinton, John Malkovich) to create a comedic masterpiece.