The Funkiest Monkey is Back!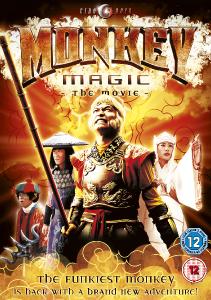 THE FUNKIEST MONKEY IS BACK!
One of the best-loved cult TV series of all time - the 1970s series "Monkey" - gets a rousing, special effects laden, 21st century makeover in MONKEY MAGIC, a brand new, live-action feature length adventure featuring the further comic exploits of Tripitaka, Sandy, Pigsy and, of course, the irrepressible Monkey. It will be released on DVD (£15.99) and Blu-ray (£19.99) by Cine Asia on 9th February 2009.
On their quest from China to India to collect a set of ancient holy scrolls, the Buddhist monk Tripitaka and his three protective disciples, Monkey, Pigsy, and Sandy, come to the help of a young princess, Reimi, who's homeland The Tiger Kingdom has been taken over by two demon warlords, the cruel King Gold Horn and his equally tyrannical brother, Silver Horn.
Having plundered the kingdom's palace and transformed Reimi's parents into turtles, they now plan to plunge the entire world into eternal darkness, and so our band of heroes sets out to find a magical orb to set things right. A lively fantasy adventure for all ages MONKEY MAGIC brilliantly captures the surreal, zany, comic spirit of the 1970s TV series, adding a contemporary flair to the timeless fable that will delight the established legions of "Monkey" fans and win over a whole new generation of "Monkey" converts.