Open Season 2 Available to buy on Blu-ray, DVD and UMD™ Video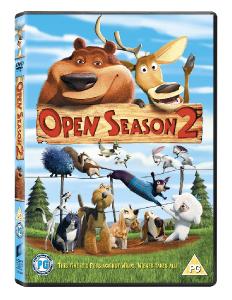 Boog and Elliot are back for more crazy adventures! The intrepid animal buddies return in the hilarious animated sequel
Open Season 2
, out to buy on Blu-ray, DVD and UMDTM Video and to rent on DVD from 16th February 2009, courtesy of Sony Pictures Home Entertainment.
Sausage-dog-turned-native Mr Weenie is kidnapped by a group of pampered pets, determined to return him to his owners. Our heroes and their friends, including the feisty Highland squirrel McSquizzy (BILLY CONNOLLY,
Open Season, Lemony Snicket's A Series of Unfortunate Events
) and the beautiful doe Giselle (JANE KRAKOWSKI,
Open Season,
TV's
Ally McBeal
), launch a full-scale rescue mission and soon find themselves in enemy camp: the world of the pets. Led by a toy poodle named Fifi, the pets do not plan to let Mr Weenie go without a fight. Can a toy poodle really bring down a 900-pound grizzly bear? Will Elliot ever marry Giselle? Find out in
Open Season 2
!
The DVD is packed with incredible interactive extras, including two featurettes and five fun games. The Blu-ray release boasts the additional 'Boog and Elliot's Traffic School', a Frogger-style game in which our heroes must save Mr Weenie!
Open Season 2
is also available to buy in a DVD and Blu-ray box set with the original comedy caper
Open Season
.
PRODUCT INFORMATION
TITLE
Open Season 2
Release Date
16th February 2006
Format
Retail DVD / Retail Blu-ray / Retail UMDTM Video / Rental DVD
RRP
Retail DVD - £19.99

Retail Blu-ray - £24.99
Retail UMDTM Video - £12.99
Retail DVD Box Set - £24.99
Retail Blu-ray Box Set - £39.99
Certificate
PG
Genre
Animated Comedy
Running Time
73 mins
DVD Extras
Featurette - Bring Out the Animal in You

Featurette - Open Season 2: CGI is Cool!
Game - Elliot's "Go Fetch!"
Game - Doggie Strength Test
Game - Track That Treat
Game - Fix That 'Doo
Game - Water Slide Maze Craze
Blu-ray Extras
All DVD Added Value (above)

Game - Boog and Elliot's Traffic School