Ajami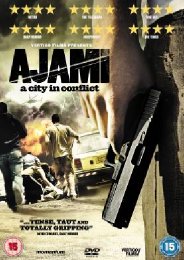 Certificate: 15
Running Time: 125 mins
Retail Price: £12.99
Release Date: 14th Feb
Content Type: Movie
Synopsis:
Set in Jaffa's Ajami neighbourhood, a town full of conflicting views among Jews, Muslims and Christians, Ajami pulls together five different stories all told by a non-professional acting cast. Ajami is written and directed by first time filmmaker Scandar Copti whose filmmaking has been compared to both Amores Perros and City of God.

The film's narrator is sensitive 13-year-old Nasri. He and his older brother Omar live in fear when their entire family is left in danger after their uncle foolishly wounds a prominent clan member. The four other protagonists of the story are naive young Palestinian refugee Malek, who works illegally in Israel to help finance the surgery that will save his mother's life; affluent Palestinian Binj who dreams of a bright future with his Jewish girlfriend, and Jewish policeman Dando who becomes obsessed with revenge when his brother is found dead in the West Bank.

Ajami weaves a time-fractured story of drug-dealing, romance and economic survival, immersing the audience into the everyday violence of life in Israel.
Special Features:


Video Tracks:
1.85:1 Anamorphic Widescreen

Audio Tracks:
5.1 surround

Subtitle Tracks:
English

Directed By:
Scandar Copti

Written By:
Yaron Shani
Scandar Copti

Starring:
Fouad Habash
Elias Saba
Youssef Sahwani
Shahir Kabaha
Ibrahim Frege
Ranim Karim
Eran Naim

Soundtrack By:
Rabih Boukhari

Director of Photography:
Boaz Yehonatan Yaacov


Editor:
Scandar Copti
Yaron Shani

Visual Effects:
Florian Obrecht

Producer:
Various

Executive Producer:
James Richardson

Distributor:
Kino International