Review of Dumbo: Special Edition (Disney)
Introduction
Feature length animation is in a strange place right now when it comes to Hollywood productions. It seems that every such film is 3D CGI, has a simple heart-warming story over which are laid rapid fire gags that are designed to appeal to as wide an audience as possible. There may be an infinite variety of characters and worlds made possible by the unlimited range of imagination, but this is countered by a wearying familiarity with clichéd stories that are told. On the bright side, Robin Williams will never be out of work. However, it seems as if Hollywood`s dalliance with the power of the pixel may be wearing off. Disney had previously announced that it would cease making traditional 2D animation in favour of CG, but now have new 2D animations on the way. There is an ineffable quality about 2D cel animation that can`t yet be replicated in the 3D digital world. I`d be imprecise as to call it magic, perhaps it`s the invitation to invest in a character, to actually suspend one`s disbelief to accept a piece of ink and paint as possessing life and emotion. The artists that work with paint and cels aren`t that far removed from those that work with oils and canvasses. There is something of them in that which they create. Disney mastered the art of investing animated creations with feeling, and their early films are a perfect example of what CGI has yet to attain. I may not be a fan of modern corporate Disney, but step back in time half a century, and you`ll find a treasure trove of animation that remains peerless to this day. Dumbo is a case in point.
The storks are making deliveries to the animals of the circus, and the expectant Mrs Jumbo waits for her own bundle of joy. Jumbo Jr. soon has the matronly instincts of the elephants in full swing, until they get a sight of his excessive ears. Re-christened Dumbo by the tattling pachyderms, he is soon a figure of derision, especially as his ears keep getting underfoot and tripping him up. Even the comfort of his loving mother is soon denied him, when her protective instincts get her locked up as a mad elephant. Dumbo would be alone and bereft, the eternal object of ridicule, were it not for Timothy Mouse, would be theatrical agent, and the one person who befriends him. Everything would be better if Dumbo had a talent that would impress the circus audience…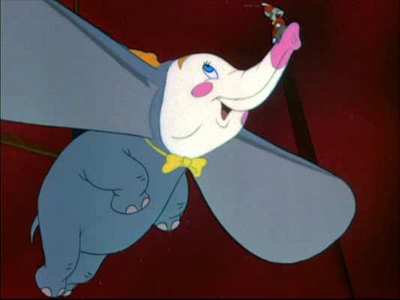 Video
For a film well into its seventh decade, Dumbo is looking in fine fettle. The 4:3 image is clear and sharp, with strong vibrant colours. It`s obvious that the film has gone through restoration, as print damage is nigh on absent. There are traces of where that print damage has been removed, ghosts of scratches and dirt, but you`d have to look for them and ignore the film. There is occasionally some flicker and a hint of grain, just what you would expect in a film of this age, but by and large the viewing experience is excellent.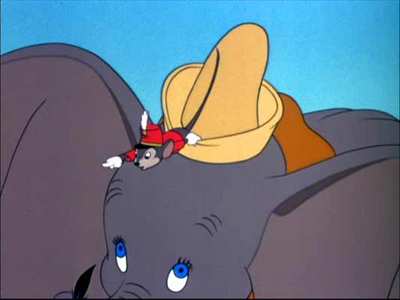 Audio
You can appreciate Dumbo in DD 5.1 English, Italian and Spanish, with subtitles in the same. The surrounds get a light workout, giving the film some space, and carrying some of the music and effects. It isn`t overly excessive, but purists may still bemoan the lack of the original mono track. Personally, I think they struck the balance between the original audio experience and catering for modern cinema sensibilities just right.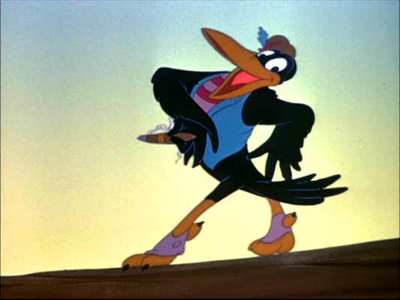 Features
The disc comes packaged in an Amaray case, contained in a nice shiny slipcase cover that repeats the cover art. Inside you will find an anti-piracy leaflet (just where these things should be). The disc autoplays with adverts for among others the new Pixar animation Ratatouille, the forthcoming Tinkerbell movie, and the Disney Gold collection. These are all skippable.
The extras cater for young and old alike. And for the youngest members of the audience there are some games and activities. There`s some animal recognition in the "My First Circus" game, which also provides some general knowledge about the animals in question (They forget to mention however that animals in circuses are now passé). The DVD storybook offers a read along experience with "Dumbo`s Big Discovery". This can also be read alone if you choose.
Music wise there is some karaoke with the Sing Along song, "Look Out For Mr Stork", and with this is the music video for the new version of "Baby Mine", sung by Kassie DePaiva accompanied by Jim Brickman.
Grown ups should head for Backstage Disney.
Here you will find the audio commentary from Animation Historian John Canemaker. He talks about the production and the history of the people behind the film. Even if he didn`t state that Dumbo was his favourite film, his passion would still be obvious, although he does approach it from an adult perspective, perhaps imbuing it with a darkness that isn`t immediately apparent.
Celebrating Dumbo lasts 14 minutes, and has talking heads praising the film. The current crop of animators and fans talk about how the film inspired them, and also add a bit of background.
Walt Disney himself provides an introduction to the film, which lasts 1 minute.
The art gallery offers glimpses of Concept Art, Character Development, Pink Elephants, Story Development, Roustabouts, Behind The Scenes, and Attractions. There is no slideshow, so you`ll have to let your thumb do all the hard work.
Finally there are a couple of bonus shorts. The Silly Symphonies include Elmer Elephant from 1936, which lasts 8 minutes, and The Flying Mouse from 1934, which lasts 9 minutes.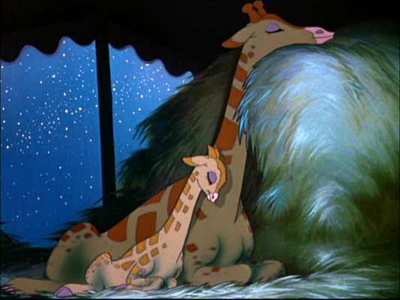 Conclusion
I didn`t like Dumbo as a child. Let`s face it; the Pink Elephants freaked me out. Like many children, I was picked on when I was young (cue violins), and I wasn`t all too pleased about seeing it happen to anyone else. Besides, I never had a Timothy Mouse to help me find my wings. But now that I revisit Dumbo, I find a genuine classic, a film that appeals to all ages. You won`t find rapid-fire gags, carefully designed schmaltz, but you will find a genuine, heartfelt story, and some technical brilliance in animation that is still breathtaking nearly 70 years on.
Dumbo is the odd one out, the outcast, the new kid in class that gets picked on. But this film takes the allegory deeper than that, and you can assign all sorts of values to the film, whether it is the civil rights movement, or the ostracism of the disabled. The fear of difference could be thought of a basic flaw in human nature, and Dumbo embodies that fear in its entirety. The large ears can stand for any possible difference, physical, cultural or religious, and as such this film embraces a large audience.
The story puts Dumbo through the wringer as well, ridiculed by the other elephants, taunted by children, torn from the loving embrace of his mother, and suffering the indignity of becoming a clown. It`s enough to send anyone into depression. Fortunately Dumbo has a guardian angel in the form of Timothy Mouse. He`s the one who can see beyond the ears, and likes Dumbo for who he is. He`s just a little bit self-serving though, it always seems to me that his desire to make Dumbo a star outweighs his common sense, why else would he suggest that the accident prone Dumbo vault atop an elephant pyramid, but in the end he`s a true friend as anyone could have.
The animation is something exceptional, especially as it is stated in the extras that it was accomplished on a budget. The Pink Elephant sequence is an obvious case in point, invoking psychedelia 20 years before it became fashionable, but there are other more understated touches that impress. I love the personality of Casey Jr., the circus engine, and the anthropomorphism of the animals is elegantly accomplished. Dumbo never speaks, and his mother only utters his name once, yet the strength of their familial bond comes across through animation alone. On the contrary, the humans seem almost faceless. The children only serve to taunt, the roustabouts are tall, dark, faceless automatons, and we never see the faces of the clowns. Off stage, they are shown in silhouette, while in the ring, their antics are anything but funny. Apparently even animated clowns are evil. Only the ringmaster has some semblance of humanity to him, as he dreams up new acts. Dumbo also impresses in the use of shadow and light, with moments that would be cutting edge even today.
For a film that`s only an hour long, there is a wealth to appreciate about it, and I could keep on writing. I haven`t even mentioned how cute it is when Dumbo follows Timothy by grabbing his tail, just as he would his mother`s. But I think I`ve got the gist of my appreciation across. There was a time when Disney was on top of the animation world, and this film is one of the reasons why. It`s would be an easy recommendation even on a barebones disc, but the extras on this release make it one to cherish.