Disney classic Sleeping Beauty comes to Blu-ray and DVD this June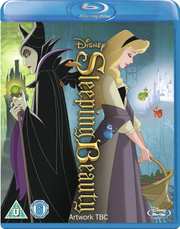 Let's kick off this post Easter break with a
Disney
classic arriving on Blu-ray, DVD and download this coming 2nd June. This is none other than the animated classic tale
Sleeping Beauty
, with the voices of Mary Costa, Bill Shirley and Eleanor Audley.
This was
Disney's
final animation to be lovingly and attentively hand-crafted using ink. After that they mostly used crayons.
With a runtime of 75 minutes and a U certificate, this family favourite will include extras across both versions of the
Grand Canyon
featurette, audio commentary track,
Princess Fun Facts
feature
,
Once Upon a Dream
music video,
Once Upon a Dream
main title music,
Hail To The Princess Aurora
,
I Wonder
,
Once Upon A Dream
and
Sleeping Beauty
music features.
In addition the DVD version will contain
The Peter Tchaikovsky Story Version 1 and Version 2
feature, whilst the Blu-ray will feature a
Cine Explore
audio commentary track. Yes, a bit odd that both feature extras the other does not but there we go.
Expect recommended retail prices of £17.99 for the standard definition release, and £21.99 for the HD version.
Synopsis and trailer follow...
The story begins with the birth of Princess Aurora, the precious daughter of King Stefan and his wife. To celebrate the arrival of the Princess, three good fairies, Flora, Fauna & Merryweather bestow gifts of magic on Aurora, but an evil sorceress named

Maleficent

places a curse upon the little Princess, that she will die on her 16th birthday after touching the poisoned spindle of a spinning wheel.
Merryweather tries to undo the damage by casting a spell that will allow the Princess to awake from an ageless sleep with a kiss from her one true love.