Bogarde stars in classic British thriller Victim out on Blu-ray this June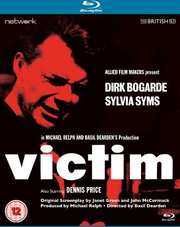 Another day, another
Network Distributing
release of a classic from
The British Film
collection. Apparently a very controversial film when released in the UK and banned from its original US theatrical release,
Victim
is directed by Basil Dearden and stars Dirk Bogarde, Sylvia Syms and Dennis Price.
Out on Blu-ray this coming 16th June, this arrives with a brand new high definition transfer made from original film elements in its as-exhibited theatrical aspect ratio. Extras include an extensive interview with Bogarde, four image galleries, promotional material in PDF format and a trailer.
The recommended retail price will be £14.99.
Synopsis and trailer follow...
The police are after Jack Barrett, who has stolen several thousand pounds and is now on the run. He tries desperately to get in touch with Melville Farr, a prosperous young barrister with a beautiful wife, but cornered and arrested by the police he commits suicide in his prison cell rather than answer their questions.