Madagascar (UK)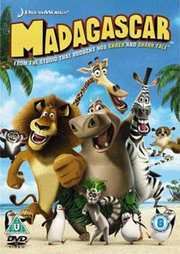 Someone`s got a zoo loose
Certificate: U
Running Time: 82 mins
Retail Price: £19.99
Release Date:
Content Type: Movie
Synopsis:
When four pampered animals from New York`s Central Park Zoo accidentally find themselves shipwrecked on the exotic island of Madagascar, they discover it really IS a jungle out there! Ben Stiller, Chris Rock, David Schwimmer and Jada Pinkett Smith headline an all-star cast of animals, including a quartet of mischievous penguins and legions of lemurs, led by the outrageous King Julien. A roaring good time, Madagascar is marvellous animated entertainment that you`ll go wild for again and again!

You can view the trailer <a target="_blank" href="http://www.nmm-trailerpark-hst.com/trailerRef.php?Traname=http://www.nmm-trailerpark-hst.com/Madagascar_snif.html">here</a>.
Special Features:
`I Like To Move It Move It` video. Mad Mishaps - lively outtakes from the film. Meet the Wild Cast. See the amazing Tech of Madagascar. Enjoy hours of interactive fun and activities for the whole family. Download DVD ROM printables of your favourite characters. Penguin Cam. Behind the Igloo. Silly Penguin Tricks.

Video Tracks:
Widescreen Anamorphic 1.85:1

Audio Tracks:
Dolby Digital 5.1 English

Subtitle Tracks:
CC: English

Starring:
Sacha Baron Cohen
Jada Pinkett Smith
David Schwimmer
Chris Rock
Ben Stiller