Rogan and Stiller comedy The Watch comes to DVD and Blu-ray this December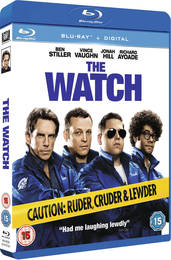 This weekend we leave you with some comedy, out on 26th December and arriving in Blu-ray and DVD formats.
Starring Ben Stiller, Vince Vaughn, Jonah Hill and Richard Ayoade,
The Watch
turns up courtesy of
Twentieth Century Fox Home Entertainment
.
Written by Seth Rogan and Evan Goldberg, the runtime is 101 minutes and the recommended retail price will be £19.99 for the SD, and £24.99 for the HD version.
Extras for both will include twelve deleted scenes, a gag reel,
Alien Invasions and You
featurette,
Casting the Alien
featurette and a trailer. Whilst the Blu-ray also includes some
Jonah Hill Alternate Takes
,
Watchmakers
featurette.
Synopsis and trailer follow...
Evan, a middle class, suburban shop manager, lives a perfect life in the sleepy town of Glenview, Ohio until one night when one of his security guards is brutally murdered while on duty.
Disillusioned with the local police force Evan takes solving the crime into his own hands and recruits four neighbours, knife-wielding police academy drop-out Franklin, British divorcee Jamarcus and gadget-loving construction worker Bob, into the ultimate Neighbourhood Watch.