X Files, The: Season 8 Boxset (UK)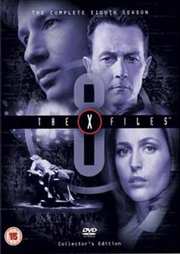 6 discs
Certificate: 15
Running Time: 924 mins
Retail Price: £79.99
Release Date:
Content Type: TV Series
Synopsis:
The start of Season Eight sees Scully and Skinner desperate to start the search for Mulder. New Deputy Director Kersh however has different thoughts and has assigned a special taskforce to take over the search, headed up by Special Agent John Doggett (Robert Patrick). As the search for Mulder intensifies Scully slowly begins to open up to Doggett whom she must work alongside. With Scully assuming the role of believer and Doggett that of confirmed sceptic, the pair become partners....

Episode titles: Within, Without, Redrum, Patience, Roadrunners, Invocation, Via Negativa, Per Manum, Surekill, Salvage, The Gift, Badlaa, Medusa, This Is Not Happening, DeadAlive, Vienen, Empedocles, Three Words, Alone, Essence, Existence.
Special Features:
The Truth About Season Eight. Deleted scenes with optional commentary by Frank Spotnitz and John Shiban. Special effects sequences with commentary by Paul Rabwin. Character profiles on Alex Krycek, Gibson Praiseand John Doggett. 42 promotional television spots. DVD-ROM game `Existence`.

Video Tracks:
Widescreen Anamorphic 1.78:1

Audio Tracks:
Dolby Digital Surround 2.0 English

Subtitle Tracks:
French
Italian
CC: English
Greek
Dutch

Directed By:
Chris Carter
Rob Bowman

Starring:
Robert Patrick
William B. Davis
Mitch Pileggi
Gillian Anderson

Soundtrack By:
Mark Snow

Director of Photography:
Jon Joffin
John S. Bartley

Editor:
Rick Millikan

Production Designer:
Michael Nemirsky
Graeme Murray

Executive Producer:
Chris Carter

Distributor:
Twentieth Century Fox