Peter Kay's Car Share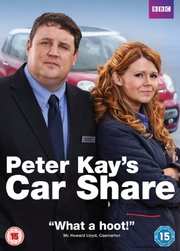 Certificate: 15
Running Time: 170 Mins
Retail Price: £12.99
Release Date: 23/11/2015
Content Type: TV Series
Synopsis:
Directed and Written by Peter Kay.

John Redmond (Peter Kay) and Kayleigh Kitson (Sian Gibson) have been thrown together in a company car share scheme, forcing their paths to cross.

Each trip brings fresh insight into John and Kayleigh's lives, with twists and turns in their unlikely relationship.
Special Features:


Related Websites:
http://www.bbcshop.com/pre-orders/peter-kays-car-share-dvd/invt/bbcdvd4054

Directed By:
Peter Kay

Written By:
Peter Kay, Tim Reid, Paul Coleman and Sian Gibson.

Starring:
Peter Kay
Sian Gibson