Comedy series Off the Hook out on DVD today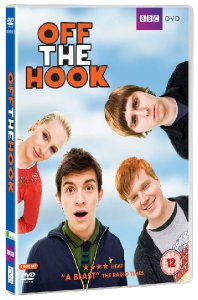 Off The Hook
DVD Release Date: 19th October 2009
Off The Hook is a new aspirational comedy which combines superb storylines with a young British cast. Set on a fictional UK university campus, Off The Hook explores the lives of a mis-matched group of fresh-faced students as they embark on university life and their first taste of independence, with all the mishaps and misadventures that entails.
Meet Danny, a new university 'fresher' who just wants to cut his past loose and get on with his life… but he's about to get an earth-shattering blast from the past in the form of Shane, his outrageous 'slacker' mate from school - the 'worst best friend ever'.
Blagging his way into last minute clearing, Shane proceeds to gatecrash Danny's entire uni existence and ransack his best-laid plans. Danny and Shane have been friends for as long as they can remember, but as they embark on their university adventures, can their friendship withstand the test? Will they even manage to make it to the end of term alive? 
Sharing the flat with our hapless heroes are the feisty Scarlet and the permanently morose Fred - who has misanthropy down to an art. Off The Hook sees them muddling through bad dates, worse parties, social mishaps, financial disasters, political coups... and all the other trials and tribulations of life as a fresher.
The show originally launched as Fresh on
BBC Switch
and the series will continue where the online show left off, with the original five-minute webisodes being reformatted to create the first TV episode.
The show features a cast of both new and established actors, including Jonathan Bailey as Danny; Danny Morgan (Tonightly) as Shane; Joanna Cassidy as Scarlet; and James Buckley (The Inbetweeners) as Fred. They are joined by an ensemble of supporting roles that includes Felicity Montagu (Nighty Night, Bridget Jones's Diary) and rising comedy stars Georgia King and Jonny Sweet. 
DVD PRODUCT INFORMATION
RELEASE DATE:   5th October 2009                               PRICE:   £19.56
CAT. NUMBER:   BBCDVD3057                                      CERT:                     TBC
GENRE:                                 Comedy                                 DURATION:          210 Mins Approx               
EXTRAS: Photogallery, Out-takes and Trailer