Dinosaur (2 disc set) (US)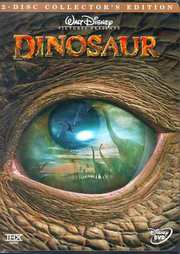 You have never seen anything like this
Certificate: PG
Running Time: 82 mins
Retail Price: $39.99
Release Date:
Content Type: Movie
Synopsis:
Presenting the all-encompassing 2-disc DVD edition of Disney`s Dinosaur. Go behind the scenes for a unique, inside view of the film that was twelve years in the making, and includes over 1,300 individual special effects!

Disney`s Dinosaur, the most technologically advanced film ever, takes you on an action-packed journey back in time 65 million years! This pulse-quickening story of a herd of dinosaurs overcoming the challenge of their lives, is a unique blend of spectacular live-action photography and outstanding computer-generated Disney animation. Startlingly realistic characters and stunning backgrounds are all captured with absolute brilliance and superior sound, created directly from the digital source.
Special Features:
Interactive Menus
Scene Access
Created Directly From The Digital Source
THX-Certified
Audio Commentary #1 - Directors and Effects Supervisors
Audio Commentary #2 - Producer and Production Team
Film Facts Fossil Dig - Go "Behind The Scenes" As You Watch The Film
"Dinopedia" - Animated Dinosaur Fun Facts
"DinoSearch" - Search And Assemble Game
"Aladar`s Adventure" - Virtual Reality Game
TheatreVision - Descriptive Audio Track For The Visually Impaired
Isolated Sound Effects Track
DVD-ROM And Weblinks
The Development Of Dinosaur
Computer Animation Tests
Dinosaur Design Featurettes
Concept Art
Character Design
Creating A Prehistoric World
Special Effects Featurette
Story Reel
3-D Workbook
Progression Reels
Music And Sound Design
Audio Mix Demonstration
Abandoned Sequences
Publicity Materials (Trailers/TV Spots)
Hidden "Easter Eggs"

Video Tracks:
Widescreen Anamorphic 1.85:1

Audio Tracks:
Dolby Digital 5.1 English
Dolby Digital Stereo 2.0 French
DTS 5.1 English

Subtitle Tracks:
CC: English

Directed By:
Ralph Zondag
Eric Leighton

Written By:
Rob Gibbs
Ralph Zondag
Robert Nelson Jacobs
John Harrison
Thom Enriquez
Walon Green

Starring:
Della Reese
Joan Plowright
Peter Siragusa
Julianna Margulies
Samuel E. Wright
Hayden Panettiere
Max Casella
Ossie Davis
Alfre Woodard
D.B. Sweeney

Casting By:
Ruth Lambert
Mary Hidalgo

Soundtrack By:
James Newton Howard

Director of Photography:
S. Douglas Smith
David R. Hardberger

Editor:
H. Lee Peterson

Production Designer:
Walter P. Martishius

Producer:
Pam Marsden
Baker Bloodworth

Distributor:
Disney Pictures