Fantasia Anthology, The (US)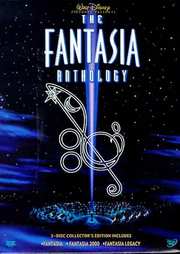 3 disc collector`s edition
Certificate: G
Running Time: 491 mins
Retail Price: $69.99
Release Date:
Content Type: Movie
Synopsis:
Fantasia
For the first time ever, Fantasia is available on DVD in a special, uncut edition! Restored and remastered, this special 60th anniversary DVD truly captures Walt Disney`s unique inspiration, complete with the intermission and narration, which have not been included in the film since its original theatrical release!
Fantasia created the mold for blending music and movie magic into an exhilarating moviegoing experience. Unforgettable images are brought to life by some of the world`s best music, the comedy of Mickey Mouse as a troublemaking sorcerer`s apprentice, the beauty of winged fairies and cascading snowflakes, even plump hippos performing ballet in tutus! With this special edition DVD, you are invited on a behind-the-scenes look at Fantasia. Included is a compilation of audio interviews with Walt Disney spanning three decades, much of which has never been heard, as well as insightful commentaries by Roy E. Disney and others whose talents have contributed to the Fantasia legacy. Never before has this masterpiece looked and sounded better than in this 60th anniversary edition DVD. Enjoy the history, the sounds, the sheer excitement that is Fantasia!

Fantasia 2000
Disney animators and filmmakers have again expanded the boundaries of imagination with Fantasia 2000. Fulfilling Walt Disney`s original vision of uniquely fusing sight and sound in a full-length motion picture, this film begins where its predecessor, Fantasia, left off, with seven completely new segments and the return of the popular "The Sorcerer`s Apprentice." In this fun-filled movie, breathtaking images are coupled with classical music favorites. From Beethoven to Gershwin, from flamingos bobbing yo-yos to a city in bluesy motion, vivid animation brings the music of the masters to colorful life. Sixty years after the original masterpiece, Roy E. Disney has orchestrated a brilliant collaboration of more than 1,200 artists and technicians, including the animators of The Lion King, Beauty And The Beast and Aladdin, to present Fantasia 2000, a film filled with "dazzling moments" (The New York Times) and "arguably the greatest Disney film ever" (KNX-CBS Radio), that is sure to captivate viewers of all ages!

Fantasia: Legacy - Supplemental Features
Now - slip down the corridors of the 60-year history of the magical, magnificent Fantasia! Explore storyboards, concept art, character designs, and special effects. Take in lush still frame galleries, and hear Walt Disney talk about the tricks of the trade and the story of the animation process. Experience "The Fantasia That Never Was" - segments that were never produced, like "The Ride of the Valkyries," "Invitation to the Dance" and "Adventures in a Perambulator." Then you are invited to enjoy interviews with the filmmakers of Fantasia 2000, witness production progression demonstrations, and view the alternate versions of segments and deleted animation from this remarkable film. Learn about the historical context of the musical pieces, sneak a peek at the theatrical trailers and posters for Fantasia and Fantasia 2000 - and much, much more. Welcome to the Fantasia Legacy!
Special Features:
Interactive Menus
Scene Access
Fantasia:
Audio Commentaries by Roy E. Disney, Conductor James Levine, And More!
Rare Archival Interviews With Walt Disney -- Spanning 3 Decades!
"The Making Of Fantasia" Featurette
THX-Certified, Including THX Optimode

Fantasia 2000:
Audio Commentary by Executive Producer Roy E. Disney, Conductor James Levine And Producer Don Ernst
Audio Commentary by Segment Directors and Art Directors
Animated Short "Melody"
Academy Award-Winning Animated Short, "Toot, Whistle, Plunk and Boom"
Showcase Program Featuring Exciting Clips From Fantasia 2000
Special Fantasia 2000 Commemorative Booklet
THX-Certified, Including THX Optimode

Fantasia: Legacy - Supplemental Features:
Fantasia:
In-Depth Exploration Of Segments, Including Storyboards, Concept Art and Character Designs
Special Effects Of Fantasia
Still Frame Galleries: The Art Of Fantasia
Publicity Material (Trailers/Posters)
Pencil Tests Of Unused Animation
Exclusive Walt Disney Segments From "Tricks Of Our Trade," "The Plausible Impossible" and "The Story Of The Animated Drawing"
Biographies Of The Filmmakers
Historical Context Of Each Musical Piece
"The Fantasia That Never Was" - Reconstructed Full Animation and Story Reels (With Music) of Abandoned Ideas for: "Clair de Lune," "The Ride of the Valkyries," "The Swan of Tuonela," "Adventures in a Perambulator," and "Invitatin to the Dance"
Still Frame Art for "The Flight of the Bumble Bee," "Mosquito," and "Baby Ballet"
Original Theatrical Trailer
Fantasia 2000:
Behind-The-Scenes Look at Each Segment - Including CGI, Animation Tests, Storyboards, Concept Art, and Character Designs
Interviews with the Filmmakers
Production Progression Demonstrations
Deleted Animation
Alternate Versions
Abandoned Concepts
Publicity Material (Trailers/Posters)
Historical Context of Each Musical Piece
Original Theatrical Trailer

Video Tracks:
Widescreen Anamorphic 1.85:1
Pan & Scan 1.33:1

Audio Tracks:
Dolby Digital 5.1 English
Dolby Digital 5.1 French
Dolby Digital 5.0 English
DTS 5.1 English

Subtitle Tracks:
CC: English

Directed By:
Pixote Hunt
Don Hahn
Eric Goldberg
Francis Glebas
Hendel Butoy
Paul Brizzi
Gaëtan Brizzi
James Algar

Written By:
David Reynolds
Perce Pearce
Irene Mecchi
Carl Fallberg
Hans Christian Andersen

Starring:
Walt Disney
Angela Lansbury
James Levine
James Earl Jones
Bette Midler
Quincy Jones
Itzhak Perlman
Steve Martin

Casting By:
Ruth Lambert
Mary Hidalgo

Soundtrack By:
Ludwig Van Beethoven
Igor Stravinsky
Dmitri Shostakovich
Camille Saint-Saëns
Ottorino Respighi
George Gershwin
Edward Elgar
Paul Dukas

Director of Photography:
Tim Suhrstedt

Editor:
Gregory F. Plotts
Craig Paulsen
Julia Gray
Lois Freeman-Fox
Jessica Ambinder-Rojas

Production Designer:
Pixote Hunt

Producer:
David Lovegren
Patricia Hicks
Donald W. Ernst
Lisa C. Cook

Executive Producer:
Roy Edward Disney

Distributor:
Disney Pictures