Atlantis: The Lost Empire (2 Disc Collector`s Edition) (US)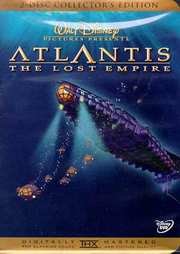 Atlantis is waiting...
Certificate: PG
Running Time: 96 mins
Retail Price: $39.99
Release Date:
Content Type: Movie
Synopsis:
The world`s most highly qualified crew of archeologists and explorers are led by the mysteries of the sea. The underwater expedition takes an unexpected turn when the team`s mission must switch from exploring Atlantis to protecting it.

Set your course for the ultimate undersea adventure of discovery and amazement in this state-of-the-art 2-Disc DVD Collector`s Edition. Begin your journey by exploring the action-and-effects packed 2D/ 3D animated feature and awe-inspiring extras on Disc One.

Navigate through stunning, never-before-seen bonus features on Disc Two using one of three exclusive viewing modes, an historic first from Disney! Loaded to capacity with technical wizardry, this special Collector`s Edition of Atlantis: The Lost Empire sets a course as one of Disney`s most exciting DVD creations ever. The journey awaits!
Special Features:
Interactive Menus
Scene Access
THX-Certified

Disc 1:
Visual Commentary - Go behind-the-scenes with the Producer and Directors and see additional footage on the "making of" process
DisneyPedia Atlantis: Fact or Fiction - Fun and interesting theories about the lost continent of Atlantis

Disc 2:
Multiple Platform Navigational Systems (3-D Menus with 3 Viewing Modes):
- Explore Mode: Tour the 3-D environment of the Ulysses Submarine and select menu options
- Tour Mode: Enjoy all bonus features as one continuous program
- Files Mode: Rapid Navigation - Every Bonus feature listed in sequential order
Deleted Scene: Viking Prologue
Virtual Tours Of CG Models - 3D Model turnarounds including the Ulysses Submarine, Leviathan and Shepherd`s Journal
Whitmore Industries Industrial Film - Meet the benefactor who made the expedition possible
"How to Speak Atlantean" - With the famous linguist who developed the Atlantean language
History
Story & Editorial
Abandoned Sequences
Art Direction
Animation Production
Character Designs
Music & Sound Design
Publicity
And Much, Much More!

Video Tracks:
Widescreen Anamorphic 2.35:1

Audio Tracks:
Dolby Digital 5.1 English
Dolby Digital Stereo 2.0 French
DTS 5.1 English

Subtitle Tracks:
CC: English

Directed By:
Kirk Wise
Gary Trousdale

Written By:
Jackie Zabel
Bryce Zabel
Kirk Wise
Joss Whedon
Gary Trousdale
Tab Murphy

Starring:
Don Novello
Leonard Nimoy
Phil Morris
John Mahoney
James Garner
Michael J. Fox
Claudia Christian
Corey Burton

Casting By:
Ruth Lambert
Mary Hidalgo
Matthew Jon Beck

Soundtrack By:
Diane Warren
James Newton Howard

Editor:
Ellen Keneshea

Production Designer:
Jim Martin

Producer:
Kendra Halland
Don Hahn

Distributor:
Disney Pictures