Utawarerumono: Volume 5 - The Beast Within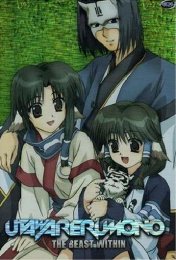 A torrent of blood reveals clues to his past
Certificate:
Running Time: 100 mins
Retail Price: $29.98
Release Date: 2007
Content Type: TV Series
Synopsis:
In a warring land, blood runs deep and trust wears thin. Just when Hakuoro thinks he has gained a trustworthy ally, he finds that he must defend his people against a power-hungry onslaught from an invincible mechanized force, the likes of which have never been seen in this primitive world.

When Hakuoro is backed into a corner, his inner beast is unleashed - and pieces of the mystery begin to unfold. Is he a bloodthirsty killer, or a mystical protector of life?

Contains episodes 19-22.
Special Features:
Character Art Gallery
Extended Episode Previews
Omake Theater
Utawarerumono: The Story So Far
Glossary
Clean Credits
Previews

Video Tracks:
1.78:1 anamorphic widescreen

Audio Tracks:
Dolby Digital 2.0 Stereo Japanese
Dolby Digital 5.1 Surround English

Subtitle Tracks:
English

Directed By:
Tomoki Kobayashi

Written By:
Makoto Uezu

Starring:
Rikiya Koyama
Ryoka Yuzuki
Akeno Watanabe
Satsuki Yukino
Hiroyuki Yoshino
Daisuke Kirii
Daisuke Namikawa
Hisako Kyouda
Hiroaki Ishikawa
Toru Ohkawa
Mai Nakahara
Miyuki Sawashiro
John Gremillion
Kira Vincent-Davis
Andrew Love
Sasha Paysinger
Brittney Karbowski
Christine Auten
Mike Vance
Chris Patton
Greg Ayres
Marcy Bannor
Vic Mignogna
Monica Rial

Music From:
Hijiri Anze
Miyu Nakamura

Director of Photography:
Takaya Mizutani

Producer:
Katsumi Koike
Toshio Hatanaka
Yasuo Ueda
Yutaro Mochizuki

Distributor:
ADV Films