Utawarerumono: Volume 3 - A Haunted Past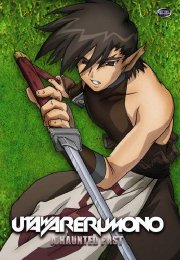 A secret past threatens the survival of honor and life itself
Certificate:
Running Time: 100 mins
Retail Price: $29.98
Release Date: 2007
Content Type: TV Series
Synopsis:
Loyalty leads to death, especially when an evil dictator would rather cover the world with blood then take prisoners. Now, a demon from the benevolent emperor's long-forgotten past threatens to tear his country apart. He must face his dark truth and fight an internal war alone.

The rival emperor is ramping up the destruction, razing entire villages and leaving inhabitants to die in the ruin. No longer able to sit idly by, the kindhearted leader orders his wicked rival put to death. Opposing forces attack with great rage in this tumultuous clash of good versus evil. Who will reign in the end?

Contains episodes 11-14.
Special Features:
Character Art Gallery
Extended Episode Previews
Omake Theatre
Interview with Suara
Glossary
Clean Credits
Previews

Video Tracks:
1.78:1 anamorphic widescreen

Audio Tracks:
Dolby Digital 2.0 Stereo Japanese
Dolby Digital 5.1 Surround English

Subtitle Tracks:
English

Directed By:
Tomoki Kobayashi

Written By:
Makoto Uezu

Starring:
Rikiya Koyama
Ryoka Yuzuki
Akeno Watanabe
Satsuki Yukino
Hiroyuki Yoshino
Daisuke Kirii
Daisuke Namikawa
Hisako Kyouda
Hiroaki Ishikawa
Toru Ohkawa
Mai Nakahara
Miyuki Sawashiro
John Gremillion
Kira Vincent-Davis
Andrew Love
Sasha Paysinger
Brittney Karbowski
Christine Auten
Mike Vance
Chris Patton
Greg Ayres
Marcy Bannor
Vic Mignogna
Monica Rial

Music From:
Hijiri Anze
Miyu Nakamura

Director of Photography:
Takaya Mizutani

Producer:
Katsumi Koike
Toshio Hatanaka
Yasuo Ueda
Yutaro Mochizuki

Distributor:
ADV Films