Utawarerumono: Volume 2 - In the Face of Evil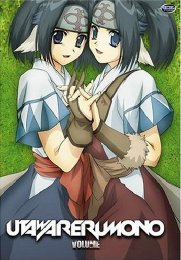 Black-hearted hordes threaten to obliterate all that is good
Certificate:
Running Time: 125 mins
Retail Price: $29.98
Release Date: 2007
Content Type: TV Series
Synopsis:
Along with his newfound allies, Hakuoro clashes with evil tyrants who challenge his very existence. As these despots attempt to destroy all that he holds dear, the masked one realizes this anarchy cannot - must not - continue. He digs deep into his steely resolve to return his people to peace. Nevertheless, as one army of fiends is dispatched, another is spawned from the depths in its place.

Still one question looms ominous but unspoken. What is the meaning behind the mask? Perhaps it endows Hakuoro with the clarity of truth to do what is right. Maybe it allows him to keep his distance from a world where he is essentially an interloper. Or could it possibly hold the secret to his past that only his savior, Tuskuru, knew of before her demise?

Contains episodes 6-10.
Special Features:
Character Art Gallery
Extended Episode Previews
Question and Answer Video Short
Glossary
Previews

Video Tracks:
1.78:1 anamorphic widescreen

Audio Tracks:
Dolby Digital 2.0 Stereo Japanese
Dolby Digital 5.1 Surround English

Subtitle Tracks:
English

Directed By:
Tomoki Kobayashi

Written By:
Makoto Uezu

Starring:
Rikiya Koyama
Ryoka Yuzuki
Akeno Watanabe
Satsuki Yukino
Hiroyuki Yoshino
Daisuke Kirii
Daisuke Namikawa
Hisako Kyouda
Hiroaki Ishikawa
Toru Ohkawa
Mai Nakahara
Miyuki Sawashiro
John Gremillion
Kira Vincent-Davis
Andrew Love
Sasha Paysinger
Brittney Karbowski
Christine Auten
Mike Vance
Chris Patton
Greg Ayres
Marcy Bannor
Vic Mignogna
Monica Rial

Music From:
Hijiri Anze
Miyu Nakamura

Director of Photography:
Takaya Mizutani

Producer:
Katsumi Koike
Toshio Hatanaka
Yasuo Ueda
Yutaro Mochizuki

Distributor:
ADV Films