Utawarerumono: Volume 4 - The Price of Freedom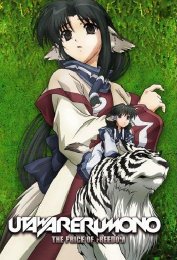 Keeping the peace is a brutal prospect
Certificate:
Running Time: 100 mins
Retail Price: $29.98
Release Date: 2007
Content Type: TV Series
Synopsis:
On a strange and foreboding journey where evil attacks at every turn, Emperor Hakuoro finds that freedom comes at the expense of moral convictions. As war continues to rage across the land, Hakuoro must summon his inner demon and confront the atrocity head-on.

Meanwhile, another masked stranger takes an unsolicited interest in Hakuoro - but he's too busy fending off romantic advances, trying to save face with Eluluu and searching for the truth about his past.

Contains episodes 15-18.
Special Features:
Character Art Gallery
Extended Episode Previews
Utawarerumono: The Story So Far
Glossary
Clean Credits
Previews

Video Tracks:
1.78:1 anamorphic widescreen

Audio Tracks:
Dolby Digital 2.0 Stereo Japanese
Dolby Digital 5.1 Surround English

Subtitle Tracks:
English

Directed By:
Tomoki Kobayashi

Written By:
Makoto Uezu

Starring:
Rikiya Koyama
Ryoka Yuzuki
Akeno Watanabe
Satsuki Yukino
Hiroyuki Yoshino
Daisuke Kirii
Daisuke Namikawa
Hisako Kyouda
Hiroaki Ishikawa
Toru Ohkawa
Mai Nakahara
Miyuki Sawashiro
John Gremillion
Kira Vincent-Davis
Andrew Love
Sasha Paysinger
Brittney Karbowski
Christine Auten
Mike Vance
Chris Patton
Greg Ayres
Marcy Bannor
Vic Mignogna
Monica Rial

Music From:
Hijiri Anze
Miyu Nakamura

Director of Photography:
Takaya Mizutani

Producer:
Katsumi Koike
Toshio Hatanaka
Yasuo Ueda
Yutaro Mochizuki

Distributor:
ADV Films