Spice & Wolf: Complete Series - Anime Classics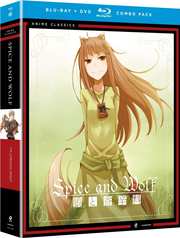 Hunting for riches more precious than gold!
Certificate:
Running Time: 620 mins
Retail Price: $54.98
Release Date: 2014
Content Type: TV Series
Synopsis:
Lawrence, a traveling merchant searching for profit, finds a naked girl with the ears and tail of a wolf asleep in his cart. Her name is Holo, a harvest goddess with an untamed beast lurking inside who longs to return to her beloved northern home.

Armed with his street smarts and her animal instincts, the simple peddler and forgotten deity begin a journey through the wild countryside. Along their path, the riches of happiness shall be reaped even as the bankruptcy which dwells in the human heart is exposed.

Contains episodes 1-13 of season one and episodes 00-12 of season two.
Special Features:
Textless Credits
"Studying" with Holo
"Stretching" with Holo, Yoitz Syle

Also contains the complete series on DVD.

Video Tracks:
1.78:1 widescreen 1080p

Audio Tracks:
Dolby TrueHD 5.1 Surround English
Dolby TrueHD 2.0 Stereo Japanese

Subtitle Tracks:
English

Directed By:
Takeo Takahashi

Written By:
Naruhisa Arakawa
Isuna Hasekura

Starring:
Ami Koshimizu
Jun Fukuyama
Daisuke Namikawa
Kaori Nazuka
Mai Nakahara
Brina Palencia
J. Michael Tatum
Jamie Marchi
John Burgmeier
Leah Clark
Akeno Watanabe
Kahoru Sasajima
Rikiya Koyama
Romi Park
Saeko Chiba
Sara Nakayama
Yuya Uchida
Brittney Karbowski
Colleen Clinkenbeard
Duncan Brannan
Ian Sinclair
Maxey Whitehead
Ryan Reynolds
Stephanie Young

Music From:
Yuuji Yoshino

Director of Photography:
Shinichiro Tachi

Executive Producer:
Kazuyoshi Fukuba
Naoko Koyama

Distributor:
Funimation Entertainment