Carmen opera based Gipsy Blood comes to DVD in July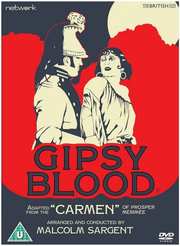 Purveyors of many things golden and olden,
Network Video
, have announced the release of
Carmen
opera based
Gipsy Blood
on DVD for 22nd July. This is another release as part of
The British Film
collection.
With a runtime of 77 minutes, this is a brand new transfer from the original film elements and presented in it's original 1.19:1 aspect ratio in glorious black and white. The recommended retail price will be £9.99.
Synopsis and clip follow...
Sir Malcolm Sargent, a rising conductor in 1931, is the musical director of Gipsy Blood, with a score based on Bizet's opera. Celebrated American soprano Marguerite Namara stars as the capricious gypsy girl from the cigarette factory.
Co-performers include Thomas Burke as Carmen's tormented lover, Don José, and New Zealand-born baritone Lance Fairfax as his rival, the toreador Escamillo.