Absentia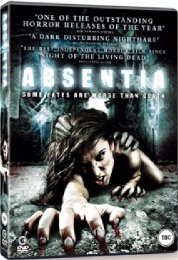 Some fates are worse than death...
Certificate: 15
Running Time: 87mins
Retail Price: £15.99
Release Date: 9th July
Content Type: Movie
Synopsis:
'One of the outstanding horror releases of the year'
Kim Newman, Empire

'A dark disturbing nightmare'
Billy Chainsaw, Bizarre

'Damn terrifying'
Aintitcoolnews

Absentia is one of the most talked about horror films of recent years with reviews hailing it as a genuinely frightening 'must-see' and now it makes its premier on DVD in the UK thanks to Second Sight.

It's seven years since Tricia's (Courtney Bell) husband Daniel vanished without a trace and when her troubled younger sister Callie (Katie Parker) comes to live with her she finally finds the strength to make the painful decision to declare him legally dead "in absentia". But as Tricia tries to move on with her life she becomes haunted by terrifying visions while Callie is strangely drawn to an ominous tunnel near the house, which is linked to other unexplained disappearances. There's something lying in the dark shadows of the tunnel but does it hold the key to Daniel's fate and could it be something far worse than death?

This dark, terrifying horror has garnered numerous awards including best horror feature at Shriekfest, Freak Show Film Fest and Phoenix Film Festival. Written and directed by Mike Flanagan and starring Doug Jones (Pan's Labyrinth, Hellboy) it comes to UK DVD on 9 July 2012.
Special Features:
None

Directed By:
Mike Flanagan

Written By:
Mike Flanagan

Starring:
Katie Parker
Courtney Bell
Dave Levine
Justin Gordon
Morgan Peter Brown
James Flanagan
Scott Graham
Doug Jones

Soundtrack By:
Ryan David Leack

Director of Photography:
Rustin Cerveny

Editor:
Mike Flanagan

Distributor:
Second Sight