1947 drama The Courtneys of Curzon Street comes to DVD in September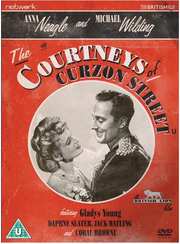 Network Distributing
continue to put releases out as part of
The British Film
collection. Out on 9th September is Herbert Wilcox's 1947 drama The Courtneys of Curzon Street, presented in its original 1.33:1 aspect ratio from a brand new transfer courtesy of the original film elements.
This stars Anna Neagle, Michael Wilding, Thora Hird and Jack Watling.
Extras will include an image gallery and promotional material in PDF format, the runtime will be 78 minutes, whilst the recommended retail price for this release is £9.99.
Synopsis and clip from the film follow...
The Courtneys of Curzon Street chronicles the changing fortunes of three generations of the aristocratic Courtney family, from the close of the 19th century, when Edward Courtney's marriage to his mother's Irish maid scandalises Victorian society, to the final days of the Second World War.