Horror flick The Sigil overdoses on DVD this July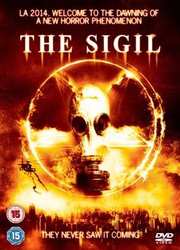 With a tagline that goes,
LA 2014, Welcome to the Dawning of a New Horror Phenomenon
, either this new
Metrodome Distribution
release out on DVD this coming 22nd July is going to be something special, or the marketing department got a bit carried away.
Anyhow,
The Sigil
is written and directed by Brandon Cano-Errecart, and stars Matthew Black, Sumiko Braun and Brian Burke. It carries a 15 certificate, has a runtime of 75 minutes and a recommended retail price of £15.99.
Synopsis and trailer follow...
Unable to come to terms with the death of her brother following a freak radiation leak, Devan and her friends break into the condemned house where he and 41 others perished, months earlier.
Sure of uncovering a government conspiracy, they document the whole thing on camera, but have no idea of the horror that lies waiting for them within the eerily deserted building.