The evil doll returns in Curse of Chucky out on DVD and Blu-ray in October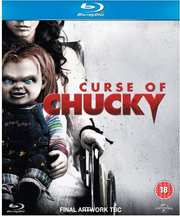 In this day and age of endless reboots and prequels, it's nice to see a franchise which harks back to the late 80s that has carried on with the good old fashioned sequel.
Universal Pictures UK
have announced the 21st October release of horror flick
Curse of Chucky
, on both DVD and Blu-ray.
Directed by Don Mancini, this again stars the voice of Brad Dourif as the doll, along with his daughter Fiona Dourif, A. Martinez, Danielle Bisutti and Brennan Elliott.
Whilst the DVD appears to be pretty much extra free, with a recommended retail price of £12.99, the Blu-ray version will contain a commentary track, deleted scenes, a gag reel,
Playing with Dolls: The Making of Curse of Chucky
featurette,
Living Doll: Bringing Chucky to Life
featurette,
Voodoo Doll: The Chucky Legacy
featurette and storyboard comparisons, for an RRP of £19.99.
But if you can't wait for October, or want a cinema based experience, the movie premiers at
Film4 FrightFest
on 22nd August.
Synopsis and trailer follow...
Nica is grieving over the gruesome suicide of her mother when her domineering older sister Barb arrives with her young family in tow to help settle their mother's affairs. As the sisters butt heads over Nica's plans for the future, Barb's young daughter comforts herself with a grinning, red-haired talking doll named Chucky that recently arrived mysteriously in the mail.
But as a string of brutal murders begins to terrorize the household, Nica suspects the doll may hold the key to the bloodshed. What she doesn't know is that Chucky has a personal score to settle. He's determined to finish a job he started more than 20 years earlier, and this time he's going to see it through to the bloody and shocking end.