Anthology movie The ABCs of Death creeps onto DVD and Blu-ray in July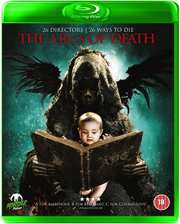 Compilation movies, or anthology films if you prefer, seem to be making a bit of a comeback recently. For those who are reading this blank faced, that means a collection of short related films compiled into one big one.
Eureka Entertainment
are releasing
The ABCs of Death
on their
Monster Pictures
label, which is two hours of horror related material spread across 26 individual shorts by directors from all around the world.
The recommended retail price will be £13.99 for the DVD and £14.99 for the Blu-ray, whilst extras will include commentary tracks, visual effects featurettes, making-of featurettes, deleted scenes, behind-the-scenes featurettes, photo galleries, interviews with Simon Rumley and Milton Cam, animatics, bloopers, out-takes and trailers.
Adding a synopsis is going to be hard for this one, so instead we'll just list each of the shorts instead. Oh and add a trailer of course!
Apocalypse

by Nacho Vigalondo (

TimeCrimes

), Spain

Bigfoot

by Adrían Garcia Bogliano (

Cold Sweat

), Mexico

Cycle

by Ernesto Díaz Espinoza (

Mirageman; Mandrill

), Chile

Dogfight

by Marcel Sarmiento (

Deadgirl

), USA

Exterminate

by Angela Bettis (

Roman

), USA

Fart

by Noburu Iguchi, (

Robo Geisha

), Japan

Gravity

by Andrew Traucki (

The Reef

), Australia

Hydro-Electric Diffusion

by Thomas Malling (

Norwegian Ninja

), Norway

Ingrown

by Jorge Michel Grau (

We Are What We Are

), Mexico

Jidai-Geki

by Yudai Yamaguchi (

Yakuza Weapon

), Japan

Klutz

by Anders Morgenthaler (

Princess

), Denmark

Libido

by Timo Tjahjanto (

Macabre

), Indonesia

Miscarriage

by Ti West (

House of the Devil; The Innkeepers

), USA

Nuptials

by Banjong Pisathanakun (

Shutter

), Thailand

Orgasm

by Bruno Forzani & Héléne Cattet (

Amer

), Belgium

Pressure

by Simon Rumley (

Red, White & Blue

), UK

Quack

by Adam Wingard (

A Horrible Way to Die

), USA

Removed

by Srdjan Spasojevic (

A Serbian Film

), Serbia

Speed

by Jake West (

Doghouse

), UK

Toilet

by Lee Hardcastle (

T is For Toilet

), UK

Unearthed

by Ben Wheatley (

Kill List

), UK

Vagitus

by Kaare Andrews (

Altitude

), USA

WTF!

by Jon Schnepp (

Metalocalypse; The Venture Bros

.), USA

XXL

by Xavier Gens (

Frontiers; Hitman

), France

Youngbuck

by Jason Eisener (

Hobo With A Shotgun

), Canada

Zetsumetsu

by Yoshihiro Nishimura (

Tokyo Gore Police

), Japan