Royal documentary 25 Years comes to DVD this July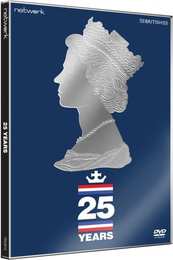 It's recently become much more okay to be a royalist in the UK, so
Network Video
have taken the opportunity to release a documentary on DVD this coming 15th July for the aforementioned flag wavers.
25 Years
is arriving as part of
The British Film
collection series, and is produced and directed by award-winning documentary filmmaker Peter Morley.
With a runtime of 90 minutes and a recommended retail price of £9.99, this arrives in its original full frame aspect ration, and comes with a trailer, image gallery and promotional material in PDF format.
Synopsis, or should that be description, and trailer follow...
Combining archive and contemporary footage, including that of the royal visit to Canada and the US in 1976, the bicentenary year of American independence, the film explores the monarchy through a quarter-century which saw the conquest of Everest, the development of television as a mass medium, the first supersonic flight, and space exploration.
Through times good and bad, and tumultuous changes for better or for worse, one factor remained constant: the monarchy, in the person of Queen Elizabeth II, provided a continuity and stability which this film seeks to celebrate.