Anime Review Roundup (updated)
Bye Bye Bandai... update
Following yesterday's bombshell regarding Bandai Entertainement's retreat from distribution, Anime News Network has posted
an interview with Bandai Entertainment's Ken Iyadomi
that states the reasons for, and the timeline leading up to the announcement.
One thing becomes readily apparent. This was a corporate decision taken by Bandai's Japanese parent company, Namco Bandai Holdings to exit the US home video business last year, and had only a little to do with Bandai Entertainment's performance itself. As has happened before with companies like Geneon and ADV, it seems that the disconnect between Japanese expectations, and Western realities is just as wide as ever. US and European audiences want cheap and accessible product similar to locally produced entertainment, in half season and season boxsets. The Japanese model for selling anime is in low print run, expensively priced, and limited edition single volumes. As a US company with Japanese oversight, walking that tightrope proved too precarious by far for Bandai Entertainment.

Bandai Entertainment Closes Its Doors To New Anime
News just in! Bandai Entertainment, one of the few remaining major anime distributors in the US is to stop releasing new DVDs, Blu-rays and Manga as of February 2012. They'll be laying off most of their workforce, and ceasing the distribution of new titles, which means anyone looking to import titles like Gosick, Nichijou, and Turn A Gundam will be out of luck. They say that from now on, their efforts will be invested in the licensing side of the business, merchandising, digital distribution, and broadcast. Their intention is to complete their existing line ups, and continue to replicate and distribute their existing catalogue until the licenses expire. If you were looking forwards to K-ON!! season 2, then that's a major spanner in the works.
This surely doesn't bode well for Europe's Beez Entertainment, who also distribute to the UK, as much of their catalogue derives from their sister company Bandai's output.
Sourced from
Anime News Network
Kaze's Christmas Present
You can't keep an anime company from tweeting, even during the holiday season when wiser folks are busy ripping off the wrapping from their presents. Just before Christmas, Kaze announced that they would be releasing Un-Go on home video formats next year, which given their current partnership with Manga Entertainment, means that it will probably come through them. The series has recently concluded its online streaming run, with the revelation that DVD and Blu-ray releases in Japan and the USA will also include the episode 0 prequel. That no doubt will apply to the eventual UK release.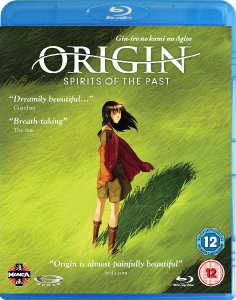 Once again, the paucity of releases over the holiday period has led me to rollover the review roundup, so you get two weeks' worth for the price of one. My first review had me delving into the back catalogue once more, as I finally got to watch one of the first Blu-ray anime discs released in the UK,
Origin: Spirits of the Past
. Studio Gonzo channelled their inner Ghibli for this futuristic fantasy eco-message, which sees the world of the future living with the consequences of man's arrogance. An experiment goes wrong and shatters the moon, devastating the Earth's surface, and unleashing a malevolent, sentient forest to torment the few survivors. Into this world awakens a young girl who was in suspended animation, and she's not fond of the new world order. She may have the key to change all that though.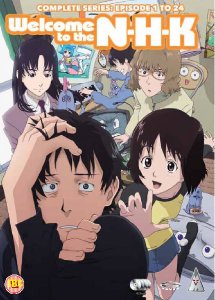 Next up it was the turn of one of my favourite anime shows, and I have to admit to a certain amount of greed when it came to watching
Welcome to the NHK
again, this time on UK DVD. After all, I had already purchased it at the time of the region 1 release. But this did leave me in the fortunate position of comparing and contrasting the two releases, and for once, that was a worthwhile exercise. Welcome to the NHK is like no anime you have seen before, wrapped up in the clothing of every anime you have seen before. After all it is a tale about otaku, the anime fan himself, who revels in role-playing games, giant mecha anime, magical girl anime, vampire anime, manga comics, and all the trappings that come with the hobby. But this story is about the dark side of obsession, as it follows the life of one Tatsuhiro Sato, a social recluse dropout who can't connect with society because of his extreme aversion to social interaction, paranoia, and delusions. Then he meets a cute young girl who claims she can cure him of all that. It's just like an anime storyline. If like me you bought the original Region 1 release, click on my review to see why you may just be buying it again.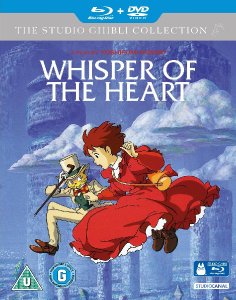 It just gets better and better, as for my final review of the fortnight, I got a look at the
Whisper of the Heart
Blu-ray. This isn't a Hayao Miyazaki film, but that's no reason to dismiss it. In fact, this is a film worthy of attention, as its fairy tale is told in a very urban milieu, free of grand displays of magic, and breathtaking transformations. This is a magic that comes from within, in a heart-warming and nostalgic tale of first love, a coming of age drama as a teenage girl on the cusp of adulthood comes to that crossroads in her life that we all at one time face. I reviewed it on DVD last year, but this Blu-ray presentation blows that disc out of the water.
Origin: Spirits of the Past was released by Manga Entertainment back in 2009, but the rest is all brand new. Welcome to the NHK comes to the UK at last, thanks to MVM on January 9th 2012. On the same day, Studiocanal will release Whisper of the Heart on Blu-ray in a dual play format.