Box sets full of The Best Of Coronation Street from the 60s to the 90s out on DVD in September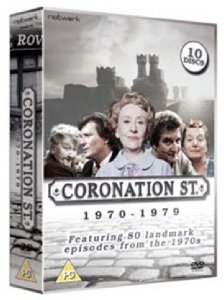 The Best Of Coronation Street (PG) Box Sets from the 1960-1969, 1970-1979, 1980-1989 and never seen before on DVD - 1990-1999
Network is proud to announce the release of four box sets containing the best of CORONATION STREET (PG) from the 1960's, 70's, 80's and for the first time ever on DVD - Coronation Street 1990-1999. Each set will be available on 5th September 2011, RRP £39.99 each.
First broadcast in December 1960, Coronation Street is the longest running, most watched TV programme in Britain. Winning numerous accolades, the show was described as 'the most successful television programme in British history' by the Royal Television Society, and creator Tony Warren was made an MBE in 1976.
Highlights from Coronation Street 1990-1999 (Never released on DVD before)
Ken Barlow's conflict with Mike Baldwin, and Ken's overdose
Terry Duckworth's escape from prison, and his 'selling' of baby Tommy
The weddings of Gail and Martin, and Reg and Maureen
The arrival of scheming barmaid Tanya Poole
The murder of Samir
Deirdre's conviction and imprisonment
Don Brennan's mental breakdown and suicide
Hayley's sex-change revelation and her marriage to Roy
The short-lived marriage of Curly and Raquel
Steve McDonald's trial and imprisonment
Toyah Battersby's kidnap ordeal
The fate of 'Arthur', the Wiltons' wandering gnome.
Highlights from the 1980-1989:
Elsie gets caught in a house fire
Ken and Deirdre get married
The Roberts' are in a car accident
Betty gets mugged
Mike and Deirdre embark upon an affair
Jack is discovered video dating under the pseudonym 'Vince St Clair'
Elsie leaves the Street
Bet is duped by an imposter
Alan falls under a tram
Kev and Sally get married.
Highlights from Coronation Street 1970-1979:
The marriages of Ernie Bishop and Emily, Ray Langton and Deirdre, Len Fairclough and Rita and Brian Tilsley and Gail
Hilda holding a séance
Stan Ogden being ostracised from the Street for a crime he didn't commit
Alf being made mayor
Lynne's murder
The bankruptcy of the Bishops
Deirdre being followed home and assaulted under the viaduct
Deirde and Ray splitting up
The warehouse being burnt down and two bodies being discovered in the ruins
Mavis almost suckered by Carlos into marrying him
A lorry full of timber crashing into the Rovers
Bet found bleeding and unconscious in the street.
Highlights from Coronation Street 1960-1969:
Linda's controversial pregnancy
Ena disappearing in Blackpool
A controversial article, written by Ken Barlow, shames the Street
A

'This Is Your Life'

for Annie
Emily's decision to call off her wedding to Swindley
Shock and horror for the residents when No. 7 collapses
Stan's numbers come up on the pools…Or do they?
A number of residents being buried beneath rubble following a train crash
Val under siege in her own home
An entertaining football match between The Rovers Return and local rivals The Flying Horse.
***ENDS***
NOTES TO EDITORS
Coronation Street 1960-1969, 1970-1979, 1980-1989 and 1990-1999 (Cert PG) are Network DVD releases
Release Date: 5th September 2011
RRP:
£39.99 (each)
Screen Ratio:
1.33:1/colour
Cat No: 1960-1969 =
7953475, 1970-1979= 7953476, 1980-1989 =
7953477, 1990-1999
=
7953365