Sergeant Cork returns for a fifth time on DVD this November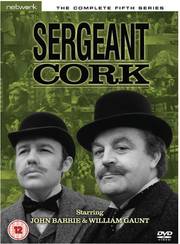 Fans of classic crime drama will be pleased to hear that
Network Video
are all set to release
Sergeant Cork: The Complete Fifth Series
for 19th November on DVD.
Devised and co-written by Dixon of Dock Green creator Ted Willis, this stars John Barrie and William Gaunt in a richly atmospheric, meticulously researched police drama.
Featuring a set of four classic episodes which see Cork and Marriott tackling a mysterious abduction, deception, suspected murder, and more, the runtime is approximately 200 minutes.
Presented in its original full frame black and white video, the recommended retail price for this affair will be £12.99.
Synopsis follows...
In the melting pot of 1890s London, Sergeant Cork works for Scotland Yard's newly formed Criminal Investigation Department, enthusiastically employing the pioneering techniques of the new science of forensics to tackle crimes born of poverty and deprivation, passion, vengeance and greed.
Ably assisted by youthful detective Bob Marriott, Cork is astute, years ahead of his time, and knows that even the most convincing evidence can all too often deceive.