Violent crime drama Contraband makes its way onto DVD uncut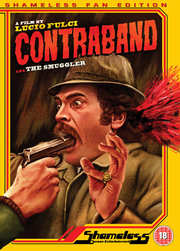 Sometimes a label can never be more aptly named, and
Shameless Screen
Entertainment is probably one such label. Out on DVD this coming 2nd June is an uncut version of
Contraband
, also known as
The Smuggler
.
Directed by Lucio Fulci, this also stars Lucio alongside Fabio Testi and Marcel Bozzufi.
This definitive limited numbered edition is released uncut for the first time, comes with both English language and original Italian audio with English subtitles.
Extras include a collector's limited edition lenticular cover, alternative Italian credits, English trailer and other trailers. Expect a recommended retail price of around £17.99.
Synopsis and trailer follow...
Hard-as-nail Luca, an old-school cigarette smuggler, triggers a ferocious mob war when his brother is killed and his wife kidnapped by a rival gang headed by a totally depraved sadist, who are intent on replacing the status-quo with their deadly drugs.
The ensuing carnage, which will turn the otherwise idyllic bay of Naples red, features the director's trade-mark gut-splattering, brain-exploding scenes of eye-popping graphic cruelty.