Clive Owen TV drama Chancer gets digitally remastered for DVD release on 3rd September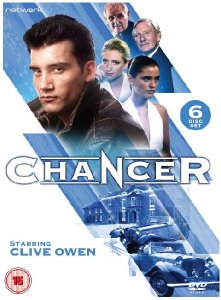 Has it really been 20 years since Clive Owen hit our TV screens in that drama? Apparently so, as
Network Video
are all set to release a digitally restored 20th Anniversary version of
Chancer: The Complete Series
on DVD this 3rd September.
This also stars Peter Vaughn as Love's frequent adversary Thomas Franklyn, and Susannah Harker as his girlfriend, Jo. With a runtime of around 1,000 minutes, spread across 5 discs, this comes in its original full frame aspect ratio and will have a recommended retail price of £49.99.
Synopsis and taster to follow...
In Owen's breakout television role he stars as Derek Love in the late 80s; a talented, devious and utterly charming City business analyst who works under the pseudonym Stephen Crane, but is stalked by an unresolved past. He does what it takes to help his friends through financial ruin in the Yuppie era, but with a moral code.